Tips For Increasing Running Mileage
Run On: The Guide For Upping Mileage
Heading out for a three-mile, 30-minute run is pretty typical for most casual runners. It's just enough to raise your heart rate and burn a decent amount of calories, while also giving the muscles in your lower body some love. After a while, your stronger body might feel inspired to tackle longer runs, so check out this guide for upping your mileage safely.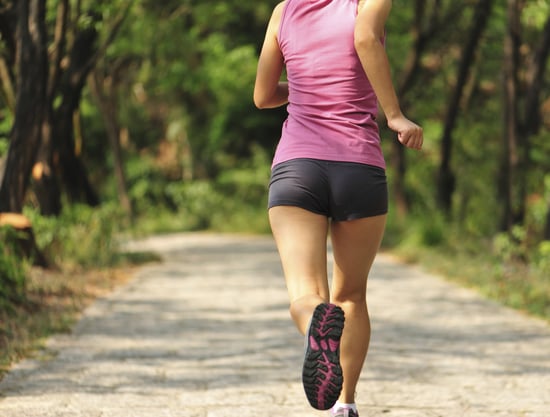 Have a Plan
Some lucky days you feel like you could just keep going and going, but it's important not to do too much, too soon. Follow the 10 percent rule and never increase your weekly mileage by more than 10 percent of the previous week's. To figure out your current rate of increase, make a note of how many miles you currently run in a week and add 10 percent to that number; the following week, do the same. Gradually increasing mileage at this slow pace will prevent taxing your muscles, which will help reduce your chance of an injury. If you've signed up for a race, make sure you're giving yourself ample amount of time to train and build up the mileage (rest days included).
What to Wear
Comfort is key, so make sure you're wearing sneakers that support your feet and the type of surface you're running on. Keep in mind that since you're running more, you'll need to replace your pair more often. Wear them with wicking socks to prevent blisters caused by sweat and make sure your outfit is also made of wicking material. Go seamless to prevent chafing and, if you're running outdoors, protect yourself from UV damage with sunscreen and sunglasses — even in the Winter. When your run keeps you going for an hour or more, instead of carrying around a water bottle, you might want to invest in one of those belts that holds your water for you.
What to Eat and Drink
You can't head out on a road trip without filling up your tank, and the same goes for your body. It's important to fuel up, so make time to eat if you're planning on heading out in the early morning. Carbs are your friend on this one, so aim for a meal that's about 60 percent carbs, 20 percent protein, and 20 percent fat (from lean meats and low-fat dairy products) and eat it one to three hours before heading out, depending on the length of your run, to prevent digestive upset. Hydration is key, too, especially if you're running in the heat, so drink about 15 to 20 ounces. You don't want to overdo it as you'll just need to find a bathroom in the middle of your run.
Keep reading for more tips on upping your running mileage.
During the Run
A longer run takes more time, but don't skip warming up. Once you get started, go at an easy pace and forgo the speed intervals and hill work. And don't worry about speed when increasing your mileage — now is not the time to try and beat your PB time on the mile. Focus on good running form to prevent injury, and as your body becomes accustomed to running longer distances you can work on increasing your pace with negative splits (running the second half of your run a little faster than the first half). If certain muscles are cramping up, stop and stretch them. Most importantly, listen to your body and throw in the towel if you're struggling or are in pain.
How to Motivate
It may seem like a wonderful idea to go on a long, leisurely run, but when you're actually running, it's easy to lose that spark and keep thinking, "Can I be done already?" In order to prevent boredom and keep you stepping one foot in front of the other, you might need some outside motivation. Map your run with one of these apps — knowing how far you've gone and how many miles you have left can be just the thing to push you along. Skip the treadmill and head outside, allowing nature to inspire you. Bring a friend along (two- or four-legged) to keep you company, make a new playlist that will take you from the beginning to the end, or listen to an audiobook. You might also benefit from signing up for a race — it's hard to skip out on those training runs when you know the big race day is creeping up.
When You're Not Running
As mentioned above, rest days are important in order to give your running muscles a break so they can repair and get stronger. That doesn't mean you have to sit on the couch and veg. Use those days to do less-intense cardio workouts or to strength train both your running and nonrunning muscles to prevent injuries caused my muscular imbalances. Using a foam roller and stretching are also a must to keep your muscles supple, as this will also prevent injury. These off days are not only important for your muscles, but giving your brain a break from running will make you crave it that much more, which is another way to motivate you to get into your sneaks and out the door.