Tips to Keep From Over Eating on Thanksgiving
Don't Become an Overstuffed Turkey This Thanksgiving
There are few people that seem to limit themselves to one helping of a Thanksgiving Day feast. There's usually a second dip into the sweet potatoes or another scoop of stuffing before the last pigskin is retired for the night. Whether it's a second slice of pumpkin pie or a loaded up turkey sandwich, we've got a few pointers that can help you keep your calorie intake down for the big turkey day. Now that's something you can be thankful for!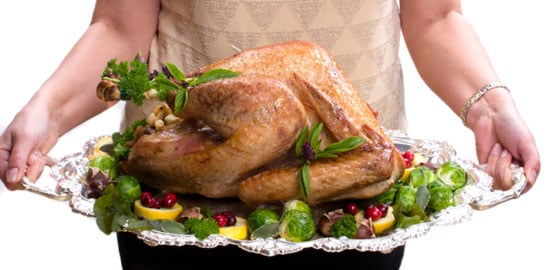 Go on a run or do some exercise before sitting down for the feast. You may be less likely to load up when you've already proved you're working against it.
Make sure you eat a healthy breakfast to get your day off on the right foot.
Drink water before the meal so your stomach isn't completely empty.
Place the food around the plate instead of piling it up. There will be less room for large servings if the meal is spread out.
Ready for the rest of the pointers?
Get a smaller plate or ramekin for gravy and cranberry sauce. You can dip into it instead of sopping it all up for maximum calorie intake.
Rather than taking an entire serving of each pie or cake and potentially eating all of them, make a small sampler plate of the desserts allowing for a bite size serving of each one.
Clean the dishes right after eating so you won't be tempted to load up again.
If you're in charge of the menu, opt for low-fat or lower calorie options.
While it may be tough with a day full of football, go easy on the booze. Those empty calories add up quickly!