Tips to Keep Your Gym Bag Germ Free
Your Gym Bag: It May Be Cute, but Is It Clean?
Let's talk about gyms bags. Yes, they are cute, versatile, and stylish. . . but they could be the reason behind that cold you're getting over. It's not only the gym equipment that is the bad guy here, chances are your gym bag is filled with tons of those little creatures called germs. From your swimsuit to your yoga mat, and even water bottle — here are six things that might be in need of a scrub or two.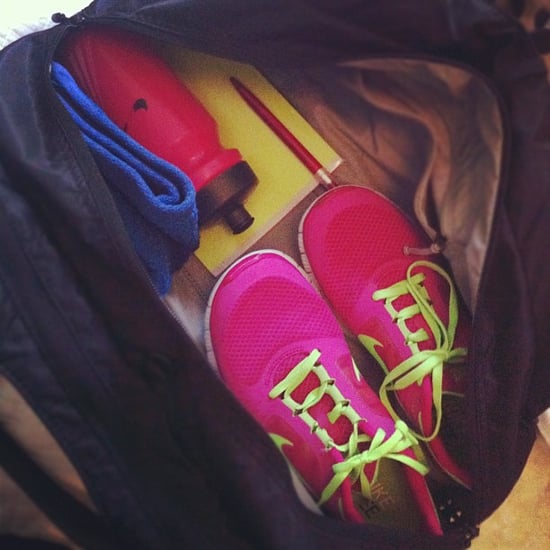 Sweaty gym clothes and damp swimsuits: We all do it: roll up those sweaty Bikram clothes or toss that damp swimsuit in our bag and simply forget about it! Before you walk out that locker room door, toss your satisfyingly sweaty clothes in a plastic bag. Then try to get in that habit of immediately removing them from your bag when you get home; this is the best way to assure germs and mold don't multiply (washing them in hot water helps too!).
Your shower shoes: You probably use flip-flops to protect your feet from germs and unsightly athlete's foot. Bacteria stays off your feet, but probably not in the case of your gym bag! Designate an entirely separate compartment for your shoes and make sure you clean them often. Make it even easier on yourself and wash your plastic flip-flops in the dishwasher!
Your water bottle: Your water bottle is the one thing that follows you through your entire workout, resting on everything from the treadmill to the weight room floor. Yuck. It is even worse if you open the pull-up top with your hands! Solve the problem with a squirt bottle or screw top and after each use, wash your bottle in the dishwasher on high heat.
Keep reading for the other three things in your gym bag germs love!
That once clean yoga mat: You probably bring your own yoga mat to class to avoid borrowing one. But is that any better? Maybe, though yours is still loaded with sweat that hangs around until your next practice. Prevent this by placing a towel over your mat before class and wiping down your mat when you get home.
Your used-to-be fresh snack: Remember that snack you packed to prevent you from reaching for those chips? If you can't, it might still be sitting in your gym bag . . . no longer recognizable. It is often those healthy snacks like string cheese or a banana that if not immediately enjoyed take a turn for the worse. Dig deep and check those pockets twice for leftovers.
The gym bag itself: We've covered all the culprits in your gym bag, but it's the gym bag itself that is also dirty! After all, it hangs out in lockers, the bathroom floor, and wherever else your active self takes you. Stop the spread of bacteria by making it a point to regularly empty your entire bag and give it a good wipe (some bags are even machine washable.)
Consider this fit tip: Make a small spray bottle of tea tree and lavender infused water to keep in your gym bag so you can spray and wipe your gear immediately after use.