Tips For Keeping a Food Diary
Dear Diary, Let's Talk About Food
If you're looking to make food swaps, track down the culprit of your upset tummy, or stay accountable to your weight loss goals, then a food journal is your answer. An easy and inexpensive solution to make the most from your meals, a food diary will help you to track, analyze, and alter your diet. Grab a pen and journal and get tracking with these helpful hints that will have you seeing results in no time!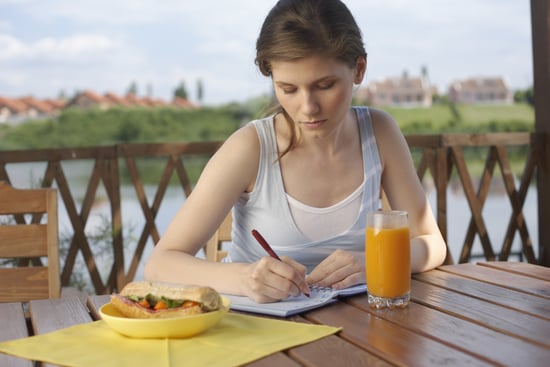 Remain honest and accountable: First line of business is staying honest with yourself. After all, this is why you started journaling. If you forget to mention the handful of candy you grabbed on the way out the door, then you will miss out on the truth. Once you realize your patterns and habits, it will become easier to make a change. And, while most of us have daily food patterns, it is important to track your meals over the course of a few weeks, not days, for the best outcome.
Consider the details: Like with any fitness plan, we all have different methods and motivators for staying healthy — same goes for a food journal. If you're looking to lose weight, then logging food and calories may be the only information you need. But, if you're trying to pinpoint a food allergy or gluten sensitivity, then you may want to include specific ingredients. Cater your journal to your needs and goals for the biggest impact — and don't forget to include your workouts, too!
Keep it close: What good will a journal do if don't have it with you? Your food journal doesn't have to be fancy, but it should be small so it can fit in your purse and gym bag and stay with you throughout the day. If you're one to forget about your journal, "there's an app for that!" Calorie trackers on your phone will help you find the nutritional value of thousands of foods and keep track of how many calories you've eaten and burned in a day to help you succeed in your weight-loss goals.
Use it to plan: As time goes on, use your journal to plan meals and keep your diet on track. Sit down at the beginning of each week and plan what you'll be eating for the following seven days. Having a plan and a grocery list will make distractions minimal, allowing you to get the best results from your food diary and begin to make healthy swaps over time.