Tips For Knowing If Your Tap Watered Needs to Be Filtered
How to Know If Your Tap Water Needs Filtering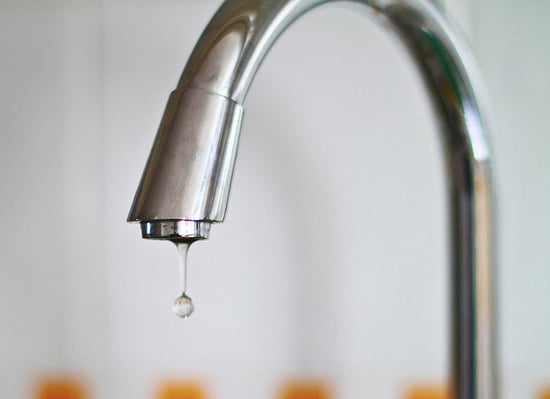 In an effort to keep my carbon footprint in check, I keep reusable bottles and fill 'em up with tap water. Since tap water is more regulated than bottled water, I tend to not worry about contaminants. Although lately, my tap water has tasted and smelled a bit off, making me wonder: should I start using my Brita again, or is it time to invest in a more sophisticated filter? I am a fan of easy hydration, so I decided it was time to learn a bit more about the water coming out of my kitchen faucet.
Here's how to know if it's time to start filtering your tap water.
Find out what's in your water: The Natural Resources Defense Council is working toward making tap water safe to drink for all Americans, and although most water meets the US Environmental Protection Agency's tap water regulations, it's still best to be proactive and examine your water for contaminants. The Environmental Working Group keeps a database containing millions of state water testing records so you can see if anything is lurking in your drinking water. Enter your zip code and water company into the EWG's handy widget, and it will generate a drinking water quality report for you. If you don't find your community in EWG's database, ask your local water utility for a copy of its annual water quality report (it may also be online).

The EWG has identified 316 chemicals in US tap water — 202 of which aren't regulated, which is why it's better to be safe than sorry and do a bit of research on what's coming through your pipes. The NRDC also recommends testing your water for lead contamination as this heavy metal is especially dangerous and levels can vary from house to house depending on the types of pipes you have. Pregnant, have kids, or want to become pregnant? Even more incentive to do so. Oh, and if you have a private well, be sure to get it tested regularly too.

So you need a filter: A certified water filter can be a good temporary fix for your kitchen tap water as most either make water taste better or remove harmful contaminants that may pose health risks. Knowing what is in your tap water means you can research filters that remove those particular contaminants — carbon filters (pitcher, tap-mounted, or large dispenser) are the most popular and affordable. Need something stronger? Reverse osmosis filters can remove contaminants that carbon filters can't. The EWG has a great guide on water filters to help you in your perfect filter quest.
Keeping your filter up to snuff: If you do invest in a filter, make sure you follow all of the manufacturer's recommendations about when the filters need to be changed or when the filter needs regular maintenance. Also note that "point of use" filters only remove contaminants from the particular tap it's connected to, as "point of entry" devices will clean all of the water entering your house (including shower water, etc.).
Do you use a water filter? Tell us what kind below.
Source: Flickr User Tom Raferty