Tips on Relaxing Face During Exercise
Hey, Runner! What's With the Face? 3 Tips to Stay Relaxed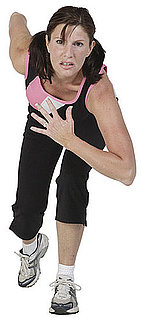 I love that feeling after a good run — the increased endorphins, the stretched legs, and the circulating oxygen. But with all the things to think about to keep my running form correct, I sometimes forget that I'm tensing my face. I'm sure I look like a sight; I've probably been running around town with a scrunched up face more times than I care to admit.
Even though I could maintain my frightening facial expressions for Halloween season, I've been trying to remind myself to relax. After all, releasing your facial muscles helps keep you less tense and also helps prevent injuries during strength training, something that can apply during high-impact exercise like running.  Find three essential tips for keeping a relaxed face while you run after the break.
Breathe through your mouth. This helps keep your facial muscles more relaxed than if you just use your nose.
On that note, always keep your mouth slightly open. A slack jaw is not a clenched jaw.
Start a face ritual when you hit a red light. Do face wiggles, quick frowns, deep sighing, and "motor boat mouth" while you wait at a red light. You may look weird for a few seconds, but that beats running around town with a scowl!