Tips For Riding a Bike Again
How to Ease Back Onto Your Bike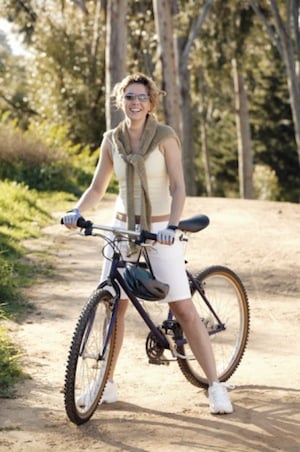 Now that the weather is warming up, are you getting back into a sport that wasn't suited for colder days? My Memorial Day weekend activity of choice was biking, and let me tell you, it was good to get my biking muscles in motion again after such a long Winter!
But just like any other sport, it's not all sunshine and roses when you go from zero to full steam ahead . . . literally. I hopped on my bike and ended up going on the longest, steepest route. Needless to say I learned my lesson. Here are some primary annoyances (and lessons learned!) from my bicycling excursion this past weekend.
Pump it up: As soon as I hopped on my bike, I realized the tires were low in air since my bike hasn't moved in the past three to five months — fail. It's always good to have your own portable compact air pump. That way you aren't stuck having to find a gas station or bike shop. And if your bike is extra special, you'll have all the pump attachments you need when you want to go for a ride.
Get out your screwdriver: Without revealing too much of my bike flair, I have — ahem — some bells, and other accessories adorning my bike. As soon as I took off for my bike ride, everything started to move around and almost fell off! Note to self: quickly take a screwdriver to all of your bike's gear to make sure things are tightened up after sitting all Winter long.
Keep reading for more of my gripes!
Adjust your helmet: Safety first, people! Just like everything else, your helmet will most likely need to be adjusted again to get the proper fit. You want it to fit snug to your head, and it should rest about one inch above your eyebrows.
Stretch it out: Wow, did I ever learn the hard way about not stretching before my ride! If you're like me and think, "Oh, it's just a bike ride," and you don't think you need to stretch — think again! Since biking targets four muscle groups, here are some stretches you may want to do before or after your bike ride.
Protect your ears: The wind can be fierce! Which is why it's good to wear some sort of ear protection so you don't end up getting an earache, well, like me. If the temps are warmer and you don't want to wear a fuzzy headband, you can also try a regular wide band that you would use to keep your hair back. Or, snugly fitting earbuds or earphones work well too. But probably best to keep the music turned off or down low — always good to be able to hear sirens or horns hocking!
Derriere 1-0-1: Last, but certainly not least . . . don't forget about your derriere! I did and it took me a few days to recover (and that's with a pretty cush seat). If you've already invested in a softer seat, here are some biking tips that will help reduce your rear end postriding pain.