Tips For Running Your First Marathon
Tips For Tackling Your First Marathon
Back in January, many of you wrote that running in longer races was one of your fitness goals in our Get Fit For 2010 community group and contest. Hopefully you signed up for a race, and are steadily training and staying injury free. The magazine Outside shared some training tips for newbie marathoners, and I'm going to share them with you.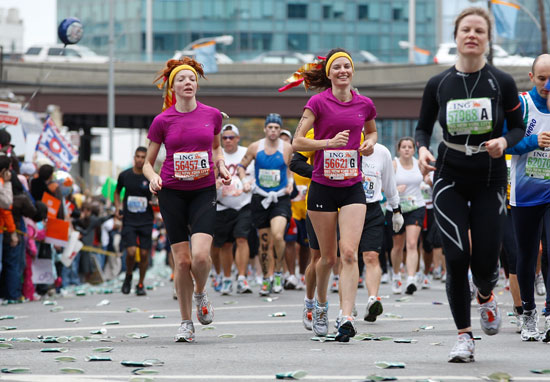 First things first, the magazine suggest you "go for a run." Easy to do. Lace up your sneaks and go. Check!
The second suggestion is the same as the first. Endurance, like Rome, isn't built in a day.
Now "hit the brakes," says Outside: "If running feels hard, you're going too fast." Going slow helps avoid injuries.
For more helpful tips, keep on reading.
"Don't wing it" when it comes to training. The active living magazine thinks it best to have a training plan. Here's a half marathon training schedule and a four-month plan for a marathon.
Training to run 26.2 miles takes commitment. Elite running coach Terrance Mahon told Outside, "The more consistent you are [with your training], the easier it will be to conquer the marathon." Keeping a training log, suggests the mag, is a great way to stick to your plan and stay on track with your training.
Olympic marathon bronze medalist Deena Kastor told the magazine, "You need to balance the workload with optimal rest." So do "curb your enthusiasm" to avoid overuse injures that come with overtraining.
The next best thing to a personal running coach, according to Outside, is a training partner. A running buddy "keeps you accountable" and you do "learn a lot by talking to other runners."
Don't skip out on your long run, and every training plan, no matter the distance, has one long run a week. These long runs "prepare you both mentally and physically." My fave runner Kara Goucher told the magazine that long runs are the "most important workout that you do."
Training for endurance events seems to be all about finding the balance between working hard and taking care of yourself. Are you training for a race? Tell me the distance in the comments section below. If you're planning on running the NYC Marathon in November, be sure to check out the March issue of Outside for specific tips on racing in the big apple. Be sure to join RunningSugar, our community group dedicated to running!