Tips on Staying Hydrated at Work
Fit Tip: Drink Water From a Smaller Cup — You'll Move More!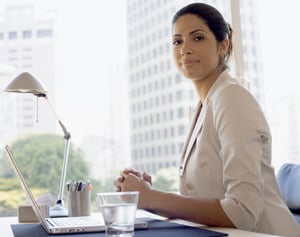 Since I'm stuck behind a desk for most of the day, I make sure that I do all sorts of things to keep myself fit from 9-5. From a stash of healthy desk snacks to taking the stairs, it's important to stay on top of the health game when you're at work. Here's an easy way to double down on your health and keep it at an all-time high.
Find a small cup — something along the lines of a six-ounce coffee mug.
Take your small(ish) cup to the kitchen and fill it with water.
Get back to your desk, drink up, and when finished, repeat the above steps.
So simple, right? I know it kind of sounds silly, but since ditching my large Sigg bottle for a mug, I drink way more water and I'm no longer chained to my desk. A smaller cup means that I get up a lot for refill action. Now I'm hydrated, my blood is circulating more, and I'm on the move. Can we say win?