Tips For Taking Group Exercise Classes
Lessons Learned From Group Exercise Classes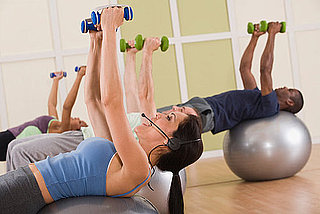 Lo Bosworth and I have something in common: We both need our butts kicked by someone else when it comes to working out. I don't have a personal trainer, so I turn to group exercise classes to gain direction and motivation from instructors and a small dose of competition from my classmates. Here are my best tips, and lessons learned from sampling oodles of methods and instructors.
Nothing is easy the first time you do it — Most group exercise classes are molded by a routine that makes any newbie stand out in the crowd. Don't be shy. Ask for and accept direction from the instructor. It will make your subsequent classes easier and more effective.
No pain, no gain — Paying attention to what your body can and cannot take is paramount, but if the class feels too elementary, it probably is. Challenge yourself mentally and physically to take the classes that will deliver the biggest bang for your buck and time. Now if you are beginning a workout, start slow with the introductory class (it is sure to offer some pain at first) and work toward the intermediate level.
You should have a good time — If you don't have even a sliver of fun amid all the dripping sweat, explore another workout that will make you smile.
Pick a favorite teacher — When you find an instructor that pushes you to the limit and motivates you, stick with her. Find her schedule and try and match it. You'll get a better workout, enjoy yourself more, and she'll be thrilled she's inspired you.
For the rest of my tips, keep reading.
Celebrate and learn to understand the burn — I always giggle when teachers say things like "feel that great burn!" but the experience of engaged and empowered muscles (and soreness after a new or especially intense workout) is a reward for your effort, reminder of your body's limits and needs, and reinforcement that you've challenged yourself. Learn to love and understand it.
You don't have to make friends — Workout buddies are wonderful, but don't force a friendship with someone just because you like the same class. If a bond happens over time, fine, but if you prefer to do your thing solo, do it!
Variety is key — Don't just stick with one class. Sample your gym's classes and explore the best workouts so you don't get bored or stuck in a rut.
Don't judge a study by one teacher — Just like school, a fitness class is only as good as the teacher. If you don't gel with a certain instructor, but liked the notion of the practice, try again.
Be a good listener, no matter what your level — Most of us pay close attention to the instructor when we are first learning, but slip into automatic mode after learning a routine. Listen to your teacher's guidance, adjustments and tips so you improve over time instead of plateau.
Shop for a good deal — Sample classes for free whenever possible, hunt out great deals on sites like Groupon and Fresh Guide and don't commit to autopay or a package deal until you know you can (and will) make it to class.
Do you take plenty of group classes? Share your tips for keeping things fresh, fun and effective in comments.