Tips For Wearing Heels on Wedding Day
Attention, Brides: If You're Wearing Heels on Your Big Day, Read These Tips
For many brides, the perfect wedding-day outfit includes a jaw-dropping white gown and a princess-worthy pair of heels. But if you're donning a pair of pumps for your big day, make sure you read these tips to keep your feet happy and healthy.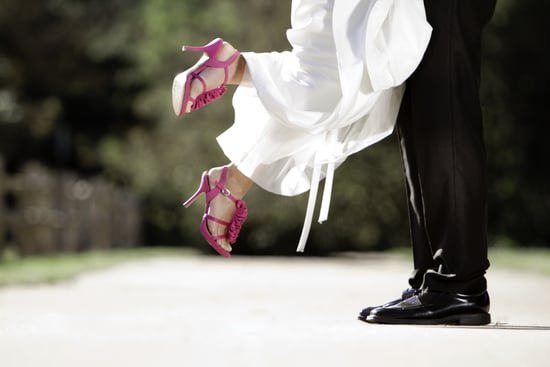 Stretches and exercises are important: Wearing heels too often can lead to different ailments, like bad posture, bunions, and tendinitis (not to mention the injuries that can happen if your heels cause you to fall), so help combat these problems and embarrassing tumbles down the aisle by regularly doing exercises and stretches that strengthen your ankles, calves, and feet. Here are four types of exercises high-heel wearers should be adding to their routine.
Switch to flats: A recent study found that women who wore high heels for 40 hours a week had permanent changes in their Achilles tendon and calf muscles, leading to muscle fatigue and increased risk of injury. The best solution? Wear flats only or alternate between heels and flats — especially leading up to your big day — so your muscles aren't overused, and your high-heel habit doesn't lead to a painful injury right before your wedding. Stashing a few pairs of flats for you and your bridesmaids to wear later at the reception can be a lifesaver after a full day wearing heels.
Practice postparty relief: The vows have been said, the cake's been cut, and you and your guests have danced the night away. Soothe achy feet the day after your wedding with — you guessed it — even more stretches (not to mention a cooling trick for sore soles). Get our tricks for relieving achy feet after a long night here.