Tips For Working Out With Hairy Legs and Armpits
So You Didn't Shave . . . Ways to Still Work Out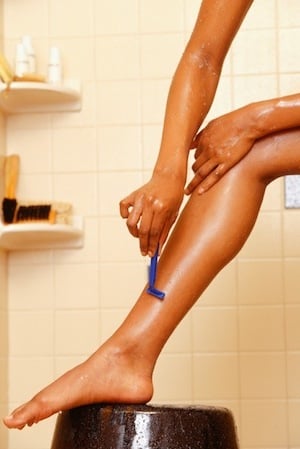 Two things that always manage to keep me from going to the gym: hairy legs and hairy armpits. Like most people who say that time (or lack thereof) is the primary reason they can't make it to the gym as often as they'd like, I too, will often use the "time" excuse. It's often used when I take one look at my hairy legs and say — "nope, not enough time to shave, which unfortunately means I won't be able to go to the gym today."
I know, this is a lame excuse on my part, which is why I've come up with ways to make sure my legs are prepped for the gym, and/or my armpits are hair-free for yoga, and b) get my butt to the gym even if I'm not smooth shaven. Without further ado, here are some tips for never having to use the "hair-removal time excuse" again.
Mark your calendar. Pick a day or two each week to devout precious shower time to shaving your legs. You already have to shower for work, so make it a priority to shave your legs as well. This way, your legs will always be smooth and ready for your gym shorts . . . no hair freak-outs required.
Keep reading for more tips.
The one-minute, shower-free shave. I don't recommend this for your legs, as a quick leg shave can cause more headaches than not shaving your legs at all (i.e., cuts, rashes, missed spots). But if you're like me and you prefer to wear tank tops while working out and can't stomach the thought of having hairy underarms peering at your treadmill neighbor, try this: get out a razor, some shave cream or hair conditioner, and a wash cloth. Rinse the wash cloth with warm water and hold it against your armpit for at least 10 seconds to soften your skin and open up your pores. Blot on some shave cream, and proceed to shave with a razor. Wipe off excess cream with the cloth, rinse off the cloth, and wipe one last time. With a bit of practice, you can get this down to a minute tops.
Practice wardrobe flexibility. This was the hardest one for me, but don't let your workout wear stop you from heading to the gym when you forget to shave! Since I like to wear tank tops when I workout, rather than throw my hands in the air and not head to my fitness class, I'll either do a "quick shave" (noted above), or I'll wear one of my thinner cotton t-shirts that still offer breathability to keep me cool. And in the pants department, I'll forgo my favorite capris or shorts and wear my longer black pants. Don't surrender to your hairy legs!
If all else fails. Two more, yet lasting tips. If you're absolutely repulsed by body hair, there's always laser hair removal for permanent hair removal results. And if you want to go the opposite direction and embrace your hairy pits, you can do that too! Who says you always have to be clean shaven, anyways? I don't remember the last time my hairy armpits slowed me down on the elliptical . . . just sayin'.