Toesox Keep You Slipping on Yoga Mat [REVIEW]
Trying Nonslip Toesox On For Size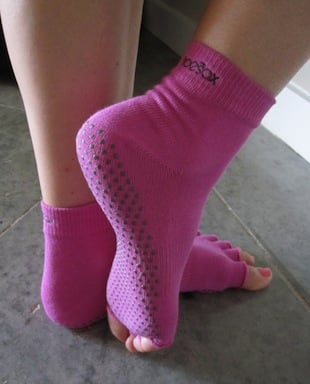 There are two reasons I take a special gripping towel with me to hot yoga classes — it soaks up sweat during class, and when I do become overly sweaty, it prevents me from sliding all over my mat. But there are days when my towel feels like too much bulk on my mat, and I'd rather slip around than feel like there's a lot going on underneath me.
Something I never considered wearing are socks, but a company called ToeSox has designed various types of "five-toe" socks, which help spread your toes to strengthen foot muscles and increase blood circulation, and they can be worn during yoga, Pilates, dance, martial arts, running, and more. Best of all, they help you stay gripped onto your mat.
When we asked way back when what you thought of yoga/Pilates socks, you thought they were cool, and I second that! I recently tried out a pair of ToeSox's Half-Toe Socks with Grip ($15) in pink (with every pink pair, ToeSox and Poses for Paws will donate a portion of the sale to helping animal shelters and welfare organizations), and I was delightfully surprised!
Here's what I thought about ToeSox.
After some fancy maneuvering on my part to get them on, I pulled on the socks like a pair of gloves. Made from 90 percent organic cotton and 10 percent spandex, these socks are lightweight, offer breathability, and move with you. With a patented nonslip sole, you can leave your yoga nonslip towel at home and try these on for size. I felt like I had more grip with Toesox than a hot yoga towel because it was just me gripping into my mat — rather than me trying to stay in one place on the towel, which is trying to stick to my mat.
The company also offers ToeSox without the grip, and ToeSox that cover your entire feet, but personally, I love having my toes exposed so that I can have more control over my feet and actually feel what they are doing! Want to know what else these are good for? Nights when your feet get cold in bed, but you don't like the feeling of wearing socks — these will keep your toes free and your feet warm! Overall I would definitely wear them to a yoga class or a ballet-barre inspired class to keep me from moving around.