Tofu Chili With Black Beans Recipe 2010-10-27 05:50:02
Make This: Tofu Chili With Black Beans
Besides eating well at the Nasoya Tofu and Skinny Bitch party, I also learned a thing or two about cooking with tofu. Listen, I totally get why some people don't like tofu. It comes off as tasteless, slimy, and just hard to work with — and it's no juicy burger. But it is a great alternative to meat, and does taste good, as long as you know how to cook with it.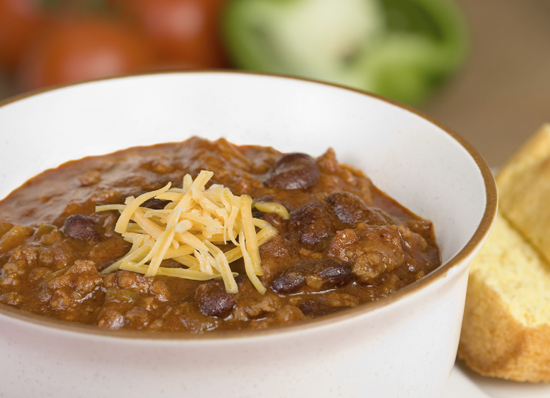 The new Nasoya Tofu U website is all about teaching people that tofu deserves a place in the kitchen. The site's tofu chili recipe still retains all the spicy and smokey flavors of chili, but the absence of meat makes it low in fat and calories, but still high in protein. With Fall and football season underway, this chili has the makings of a perfect party dish.
Check out the recipe when you read more.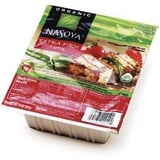 Ingredients
2 tablespoons chili powder
1 teaspoon ground cumin
1 teaspoon paprika
1 teaspoon dried oregano
1 teaspoon salt
1 teaspoon sugar
1 package extra firm tofu, patted dry
1 tablespoon canola oil
2 cloves garlic, minced
1 onion
1 carrot, chopped
1 red bell pepper
1 28 ounce can crushed tomatoes
1 15 ounce can black beans, rinsed and drained
Directions
In a medium bowl, blend chili powder, cumin, paprika, oregano, salt, and sugar. Crumble tofu into bowl of spices and stir until coated. Set aside.
Heat oil in a large pot over medium high heat. Sauté garlic, onion, and carrot for five minutes. Add red pepper and sauté for five minutes. Add the tofu and cook for five minutes. Add tomatoes and black beans. Bring to a boil, then reduce heat and simmer for 10 minutes. Season to taste.
Makes eight servings
Nutritional information: 190 calories, 5 g fat, 0.5 g sat fat, 0 mg cholesterol, 450 mg sodium, 26 g carbohydrates, 8 g fiber, 2 g sugars, 12 g protein
Information
Category

Chili, Main Dishes

Cuisine

North American