Tofu Scramble Recipe
Southwestern Tofu Scramble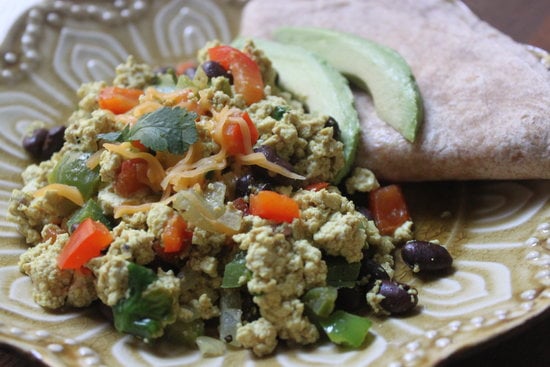 This tofu scramble tastes so good, it may even sway you to go vegan. With flavors like cumin, coriander, onion, pepper, and cilantro mingling together, you get a surprise in every bite. The turmeric gives the tofu a yellow color so that it even looks like eggs. But, unlike with eggs, you can prepare this dish ahead of time and keep it in your fridge for days. Start cooking now, and get a little taste of the Southwest!
See the recipe after the break!
Ingredients
2 14-ounce blocks extra-firm tofu
2 tablespoons grape seed oil
1 small onion, chopped
1 small green bell pepper, finely chopped
1 small red bell pepper, finely chopped
1/2 teaspoon ground coriander
1/2 teaspoon ground cumin
1-1/2 teaspoons ground turmeric
1 15-ounce can black beans, rinsed, drained
1/4 cup coarsely chopped fresh cilantro
Kosher salt, freshly ground pepper
4-6 whole wheat tortillas, warmed
Garnishes: salsa, chopped avocado, grated cheddar, sliced scallions, and hot pepper sauce (optional)
Directions
Place tofu on a plate lined with several layers of paper towels (to absorb liquid). Using a fork or potato masher, smash tofu.
Heat oil in a large skillet over medium-high heat. Add onion and peppers; cook, stirring occasionally, until softened, 3-4 minutes. Stir in coriander and cumin; cook until fragrant, about 1 minute. Stir in tofu, then turmeric. Add beans; cook, stirring often, until heated through, 1-2 minutes. Stir in cilantro; season with salt and pepper.
Serve scramble with tortillas and garnishes as desired.
Serves 4-8.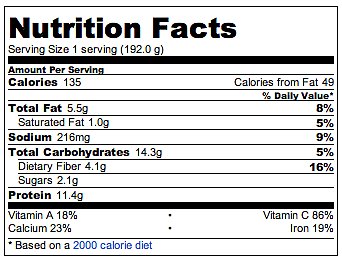 Information
Category

Eggs, Breakfast/Brunch

Cuisine

North American