Tofu Scramble With Vegetables Recipe
Make This: Garden Tofu Scramble
I used to think breakfast wasn't breakfast unless there were eggs on my plate. Not anymore. A few years ago, I had a game changing tofu scramble. And even though a tofu scramble doesn't taste exactly like farm fresh eggs, it has a creamy consistency that scramble egg lovers will enjoy.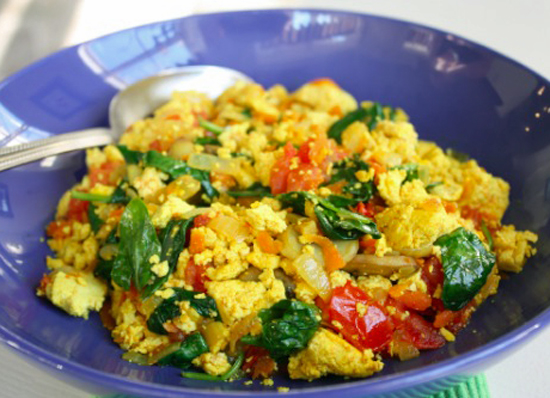 If you're looking to change things up for breakfast, and save on fat and calories, try making this garden tofu scramble. Like a savory frittata, it'll taste just as good for lunch or dinner.
To see the recipe and nutrition stats, read more.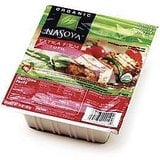 Ingredients
1 tablespoon canola oil
1 clove garlic, minced
1 small white onion, chopped
6 button mushrooms, sliced
½ cup carrots, grated
1 package firm tofu, patted dry
1 teaspoon salt
½ teaspoon turmeric
1 cup baby spinach
1 tomato, diced
Directions
Heat oil in a large nonstick pan over medium high heat. Once oil is hot add the garlic and onion and sauté for about five minutes. Add the mushrooms and carrots and sauté for another five minutes. Add the tofu into the pan crumble it into small pieces using a spatula. Sprinkle salt and turmeric evenly over the scramble. Heat for about five minutes, stirring occasionally to blend well. During this time the tofu can be broken into smaller pieces to resemble the consistency of scrambled eggs. Mix in the spinach and tomato and heat until spinach is just wilted, about three minutes. Remove from heat and enjoy.
Makes seven servings.
Nutritional information: 90 calories, 4.5 g fat, 0 g sat fat, 0 mg cholesterol, 370 mg sodium, 5 g carbohydrates, 1 g fiber, 1 g sugars, 6 g protein
Information
Category

Other, Breakfast/Brunch

Cuisine

North American