Tone It Up Before and After Weight Loss Story
This Inspiring Mom of Two Lost 40 Pounds With Tone It Up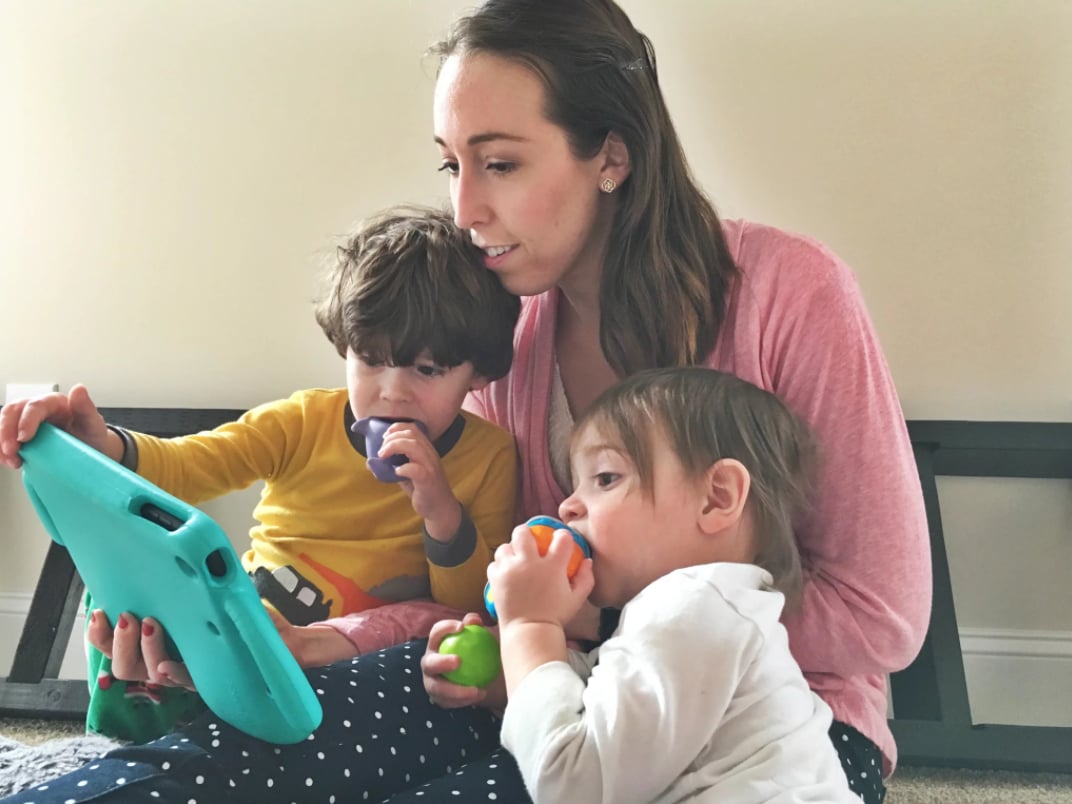 Sarah Stevens is a total ray of sunshine. Upon meeting Sarah in Dana Point this past weekend (Tone It Up hosted me there at their incredible retreat!), I was immediately drawn to her enthusiasm and warm spirit. Although we'd never met prior, I immediately felt like I had a friend. It's that positivity and energy that helped Sarah create a healthy, fit life for herself.
It was hard to believe that this ripped and toned beach babe hadn't always been this fit; in fact, at our beach dinner, she told me over a glass of champagne that she had a "before and after" story of her own, and showed me the pictures you're about to see. I was stunned; she'd made such incredible progress in such a short period of time! And the Tone It Up Bikini Series winner doesn't have all day to herself for her workouts — she's a mother of two young boys under 4 years old. Read on for insight into how Sarah manages it all, and still takes time for herself.
Sarah: Before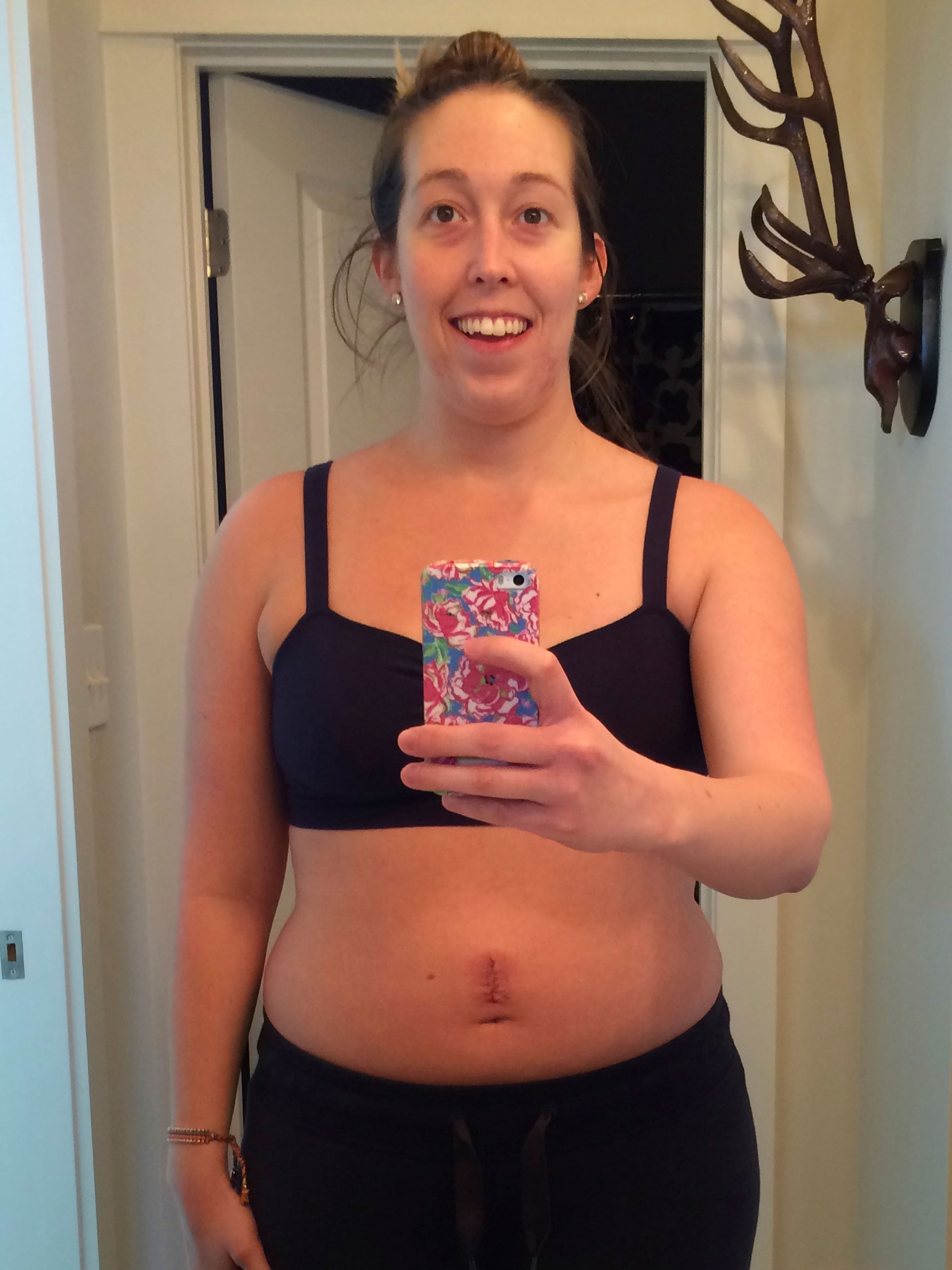 POPSUGAR: What made you decide to start your weight-loss journey?
Sarah Stevens: I was sitting at home with my newborn son absolutely exhausted and unhappy. I didn't have a terrible case of postpartum depression, but I had some serious baby blues and I knew I needed to make a change, but I had a tough time motivating myself. I Googled "at-home workouts" and found Tone It Up (TIU). Their positive attitude pulled me in right away. They were so happy and genuine and never stopped laughing and having fun. I knew I wanted to feel the same way.
PS: What's your favorite way to work out?
SS: Definitely Jazzercise! This isn't some lame '80s workout. It's high-intensity dancing for 45 minutes and then 15 more minutes of strength training.
"Before, I felt embarrassed in a two-piece swimsuit so I would never have imagined putting on a crop top. Now I feel beautiful and confident."
PS: What's your weekly exercise schedule?
SS: Monday through Friday I wake up early for my Tone It Up Bootycall workout. I either do this at the gym or at home depending on my husband's workout schedule. I'll do a mix of strength training with TIU workouts or cardio like a Spin class on my Peloton bike or a run because I'm training for a half-marathon. Then I'll head to Jazzercise later on in the morning and sometimes I throw in a barre class. I like to run or do some other kind of cardio on Saturday mornings and I love Sunday morning barre class.
Sarah: After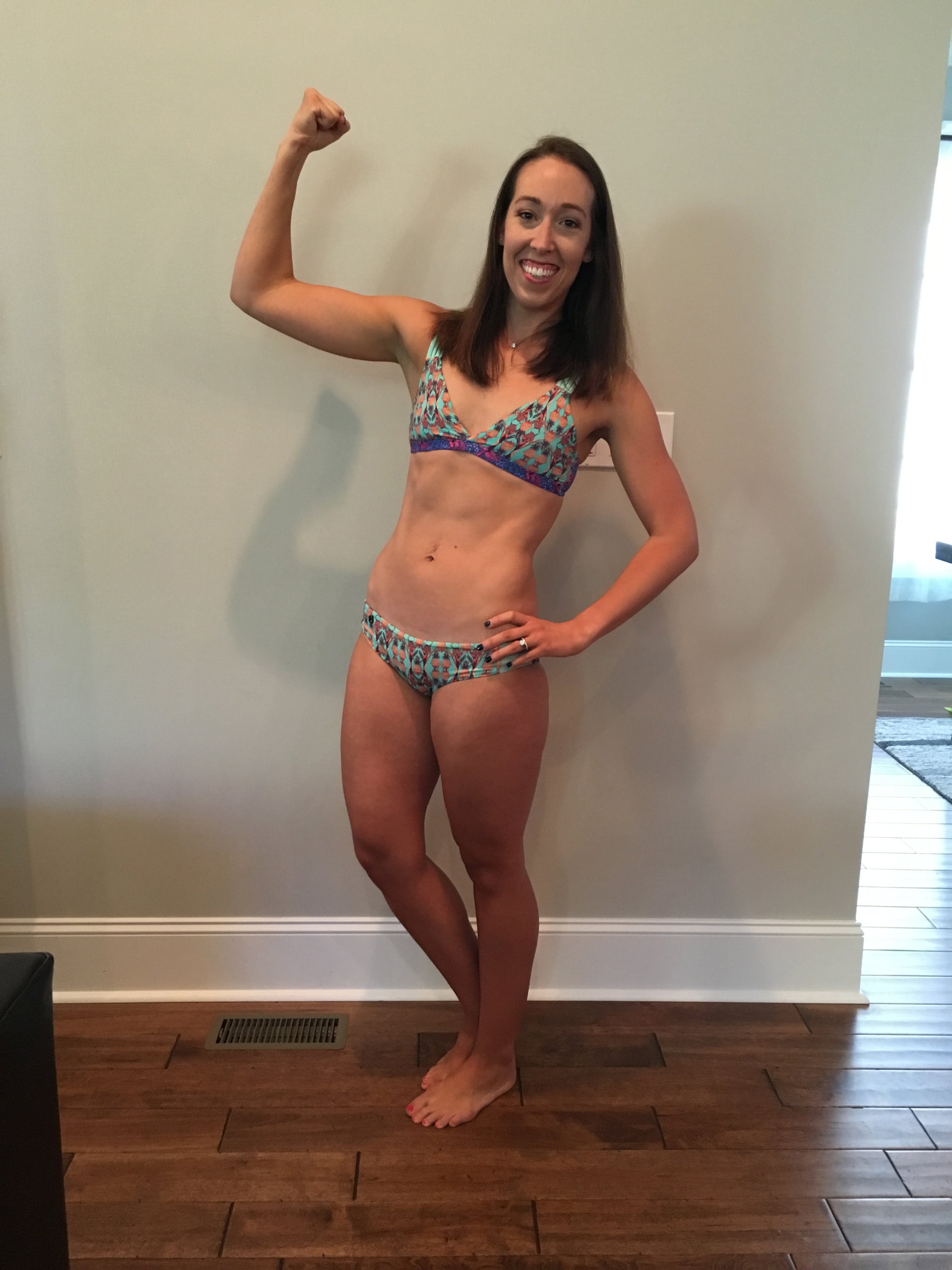 PS: How do you keep workouts exciting?
SS: I love to mix it up by going to different group classes. Exercising with others always makes me push myself harder. I like to make plans with girlfriends to keep myself accountable and get in girl time all at once. I will also go to a Turbospin class taught by my husband. His indoor cycling classes are killer and I'm always proud to watch him lead a class.
PS: How much weight have you lost?
SS: Since joining TIU, I've lost a total of 40 pounds. I started following the plan in January 2015, and worked out every day and ate well all week, but I would splurge on the weekend. I still lost 22 pounds [that year], but I knew that I wasn't truly following the plan to a T. So on Jan. 1 of 2016, I made the commitment that I would follow the nutrition plan 24/7 and see what it would do for my body, and I lost another 18 pounds.
PS: What was the first big difference, other than the number on the scale, that really made you feel proud and excited?
SS: There were a few, but a big moment was having the confidence to wear a crop top! I had hernia repair surgery shortly after having my second son resulting in a scar smack dab in the middle of my stomach. Before, I felt embarrassed in a two-piece swimsuit so I would never have imagined putting on a crop top. Now I feel beautiful and confident. I've found that there's no point in focusing on the negatives when you could spend your time smiling and just enjoying life.
Sarah: Before
PS: How do you track your weight loss?
SS: I watch the scale some, but I mainly focus on how I feel and how my clothes are fitting. My weight fluctuates a few pounds in either direction, but I have a better sense of where I am if I pay attention to how I feel when I wake up in the morning and what I think when I look in the mirror.
PS: What's a typical day of meals and snacks?
SS: I don't eat perfectly every day, but I try to keep my meals lean, clean, and green 90 percent of the time so I can really enjoy a girls' night or a date night with my husband.
Meal 1: A Perfect Fit pancake with berries and maple syrup.
Meal 2: Grapes or 1/2 of a Perfect Bar.
Meal 3: A salad with lots of veggies and protein like baked chicken or broiled tofu.
Meal 4: This is when my sweet tooth hits, so I love having a healthy version of baked goods around like the TIU banana chia muffins or protein donuts.
Meal 5: We eat Mexican bowls once or twice a week because I love them so much! Quinoa, black beans, grilled veggies with spices, some form of lean protein, topped with fresh avocado and hot sauce.
PS: What's the range of calories you eat per day?
SS: I don't count calories. I've found that it quickly becomes an unhealthy habit for me so I try my best to stay away from it. Instead, I follow the TIU Nutrition Plan and keep a close eye on my portions. I focus on eating good foods and never really feel like I'm on a diet.
PS: What are the healthy staples that are always in your fridge?
SS: Almond milk for smoothies, frozen chicken breasts, frozen veggies, and Yasso Greek Yogurt bars for when I want a treat.
Sarah: After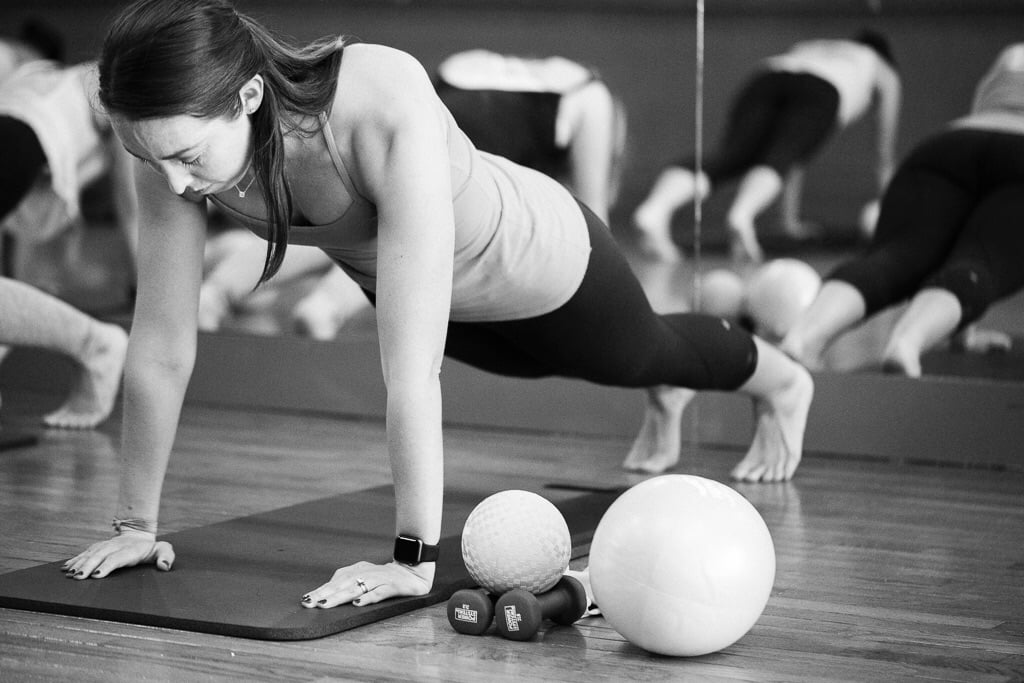 PS: How do you strategize for meals out?
SS: That depends on the restaurant. If I know I'm going somewhere with healthier options I will usually stick to my normal meals all day and pick the healthy dinner option. If I'm going out for pizza and beer, I'll make sure to stay pretty clean throughout the day and avoid dairy and carbs to make up for the splurge. Sometimes I'll throw in an extra workout if I know I'm going to go wild!
"I struggled so much when I was starting out, but I knew how proud I would be of myself at the end of the workout if I just kept going."
PS: What advice do you have for anyone starting out on a weight-loss journey?
SS: Just keep going. We all start somewhere and although it might not feel like much, every little bit counts. I struggled so much when I was starting out, but I knew how proud I would be of myself at the end of the workout if I just kept going. Also connect with a community. It could be a local community or an online one like Tone It Up, but share your story and look to others for motivation. There have been so many days where I just wanted to lay in bed, but I knew other TIU girls were getting out of bed and making it happen so I had to as well!
Sarah: After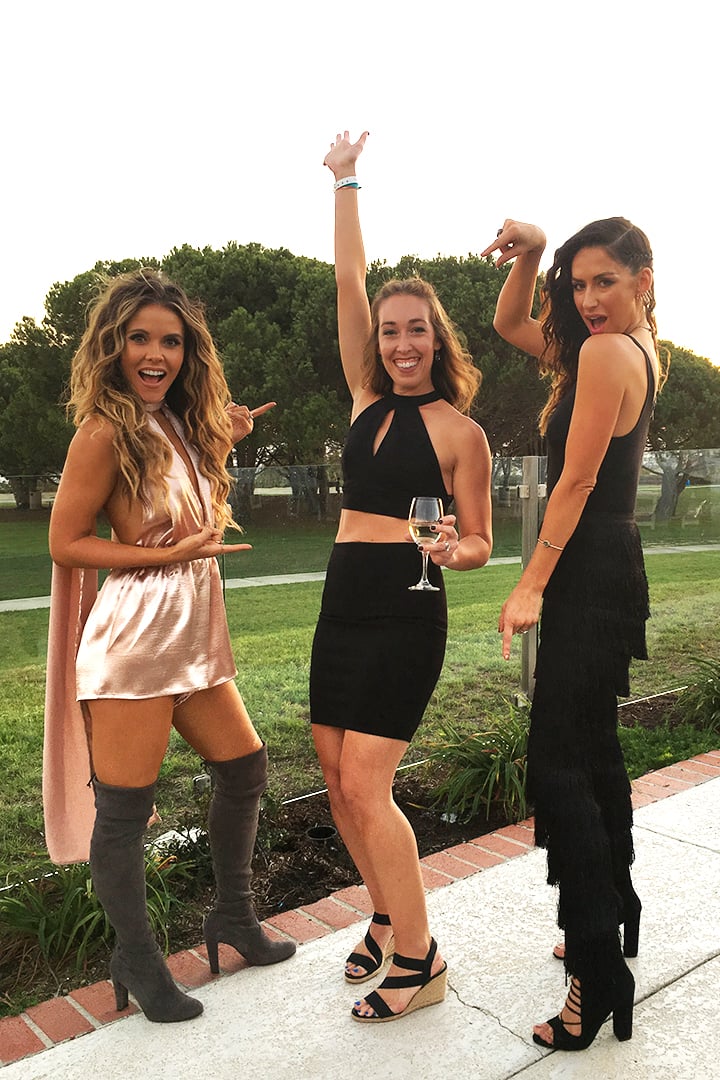 Image Source: Sarah Stevens