The Top Figure Skating Outfits of the Olympics
Sparkles, Spandex, and Spirit Fingers
For such a graceful sport, there's always a lot of controversy surrounding figure skating: to quad or not to quad, judging scandals, and putting hits out on other skaters, to name just a few of the soap opera-esque moments happening on the ice. For some — like columnist Ken Herman — just calling figure skating a sport is rife with controversy: "Nothing done to music is a sport. And anything involving costumes (especially with sequins) is not a sport. Sports have uniforms, not costumes."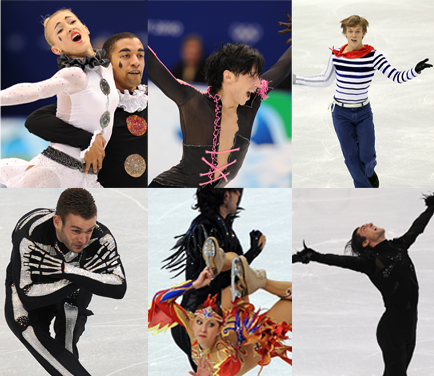 Still, figure skating remains one of the most watched of the Olympic events; I'm thinking those sequins, jazz hands, and feathers have a lot to do with its success. Let's face it — before there was a Lady Gaga, there was competitive ice skating. So far, at the Vancouver games, we've been dazzled with some spectacular costumes: corsets, leather, and feathers dominated, and that was only from the men!
Here are our picks for the most memorable (read: outlandish/wild/questionable) costumes from Olympics past.
And for more photos just