Toppings and Stir-Ins That Make Yogurt Healthier
5 Ways to a Healthier Bowl of Yogurt
If yogurt is your go-to breakfast, you get a thumbs-up for choosing a food that's so high in protein and calcium. Aside from adding the usual half cup of fresh fruit, here are five ways you can make that bowl of yogurt even more nutritious.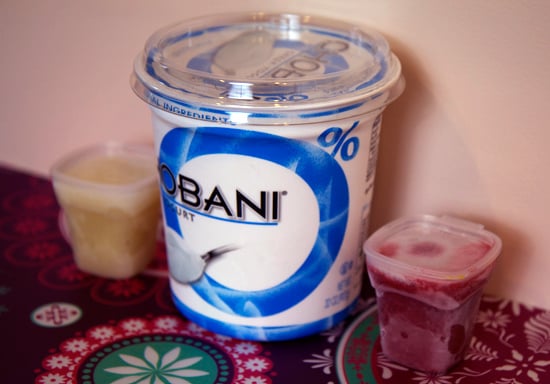 Go Greek: A six-ounce container of nonfat vanilla yogurt contains seven grams of protein. But choosing Greek yogurt will give you more than twice the amount of protein — 16 grams! If you're not used to eating Greek yogurt, the consistency is a lot thicker than regular yogurt so it might take some getting used to, but it's well worth it.
Add milk: If you don't like the thick consistency of yogurt, stir in half a cup of cold skim milk. It will add 4.4 grams of protein, 158 mg of calcium, and 210 mg of potassium.
DIY flavors: When comparing Greek yogurt, plain offers 18 grams of protein for 100 calories, and strawberry is 140 calories with 14 grams of protein. So instead of buying the premade flavors, make your own. Buy a big container of plain yogurt and puree fruit in your food processor such as frozen blueberries or raspberries, or fresh pears or bananas. You can even throw in a few spinach leaves. Pour the puree in ice cube trays or baby food containers (like the Baby Cubes shown in the photo), and when you're ready for breakfast, take one out of the freezer to let thaw and add that to your bowl of plain yogurt. It'll not only keep the protein level high, it'll also add fiber with less sugar. And bonus — you'll not only save money making your own flavored yogurts, but you can come up with unique combinations that aren't even available such as blackberry peach or strawberry pear.
Read on for more ways to serve up a healthier bowl of yogurt.
Get nutty: If you're not into fruit-flavored yogurt, stir one tablespoon of peanut or almond butter into your plain yogurt. It adds about four grams of protein and two grams of fiber, thickens the texture slightly, and adds a sweet nuttiness to your breakfast.
Skip the granola and go for more fiber: I know yogurt and granola are practically married, but a 2/3-cup serving of those sweetened oats only offers three grams of fiber, and it's pretty high in calories — 230. There are tons of other low-calorie, high-fiber cereals you can top on your creamy yogurt, so choose one that contains at least eight grams of fiber per serving. GoLean Crunch!, Optimum Slim, and Hearty Morning are great options.