Tracy Anderson Shares About Gwyneth Paltrow, Jake Gyllenhaal, Matthew McConaughey, Jennifer Lopez, and Nicole Richie
Tracy Anderson Chats About Her Star Clients and Endorses the Occasional Glass of Wine
Tracy Anderson was among the famous faces who turned out for Nicole Richie's House of Harlow party at NYC's Bergdorf Goodman last night, and I was able to snag a minute with the fitness expert to chat about what she's been up to lately with her new Metamorphosis method. She divulged what she's working on with her roster of star clients, including Gwyneth Paltrow's preparations for Sunday's Grammys, and also gave a few tips on staying healthy during the Winter while allowing yourself the occasional glass of wine. She said: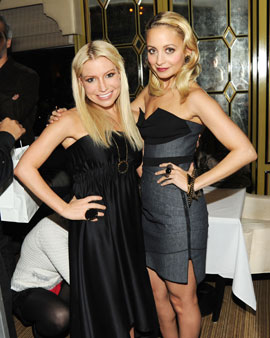 FitSugar: What are you up to here in New York?
Tracy Anderson: I live in the city and in the Hamptons and in LA, so I'm really always everywhere — so it's kind of difficult to say I live anywhere. I just was at the Super Bowl and then got back maybe a few days ago! But I'm getting ready to go to LA. I just launched Metamorphosis — it just launched on television in the last few weeks. You identify your own body type, and then you get 36 custom workouts that go to you. You change every 10 days like Gwyneth and Nicole and everyone! I have to film every month 11,000 new butt-lifts every few weeks, so everyone at home can start on getting their custom program every 10 days!
FS: And you're working with Nicole! How is that going?
TA: It's going amazing, because she is an unbelievable dancer. We actually have a little surprise that we're going to release here soon . . . a little Tracy Anderson/Nicole Richie collaboration!
FS: You're also working with Ashley Greene we hear?
TA: I do train Ashley Greene! Well, I design for her and Jennifer Lopez. Right now I've got a lot.
FS: Might there be another collaboration in the works with Ashley?
TA: Maybe! I should do that with Ashley! I've got a trainer on set with her right now. Would you like that?
FS: The whole Twilight thing would be a good tie-in! Rumor has it you work with Jake Gyllenhaal as well?
TA: Jake has for a while, yeah.
For more on how men find their inner dancer and Tracy's feelings about vino, keep on reading.
FS: Is it different training your male vs. female clients?
TA: The guys, it's interesting because the women scale up a lot faster than men when they do it — they die in the beginning because it's waking up all of their accessory muscles. For example, too, it's also funny to see Matthew McConaughey or someone actually get in touch with their dancer.
FS: What would you recommend is a good motivation for sticking with a workout in the Winter?
TA: The fact that Summer is coming and you still have to look great naked!
FS: Do you recommend people stay inside during the Winter or what do you recommend?
TA: If you don't have to bundle up and get to the gym, that's a really good thing. That's why I'm paying so much attention to people having things at home that they can do, which is what the Metamorphosis is really all about. Gwyneth and I released a series of DVDs and that's a good way to get people started, but its not the essence of my method. It's not really how to do it appropriately. But to bring that to everyone is a big, big deal — that's why I'm filming all the time now.
FS: Tell us about Gwyneth's prep for the Grammys on Sunday.
TA: Gwyneth's doing the Grammys, which is why I'm going out to LA, too — and she's doing more Glee! For Gwyneth I'm always kicking it up with her, she's right at the forefront of everything I'm doing, so more dance aerobics.
FS: What's the one exercise you think everyone has to do?
TA: I don't do one exercise. I think it's really important that people sweat a lot in the Winter. Because toxicity doesn't necessarily come from food — food's not necessarily what's poisonous to us. But the toxicity comes from being around a lot of chemicals and being indoors a lot, so it's really important that people sweat a lot in the Winter.
FS: And I see you have a glass of wine — I take it you're OK with people indulging?
TA: Please! I'm all about that!
Photo courtesy Billy Farrell/Siren PR