Tracy Anderson's Wedding Weight-Loss Tips
Tracy Anderson's Weight-Loss Tips For Brides-to-Be
It seems like Tracy Anderson has trained half of Hollywood, and one of her biggest fans, Nicole Richie, even enlisted her to help her get in shape for her 2010 wedding. "Nicole worked out six days a week, she learned dance aerobics, she did her muscular structure work, and she did it in such a healthy beautiful way," Tracy says of her client's devoted wedding prep. If you want to look like a starlet on your wedding day, here are a few tips Tracy Anderson shared with us for brides-to-be who want to get in shape.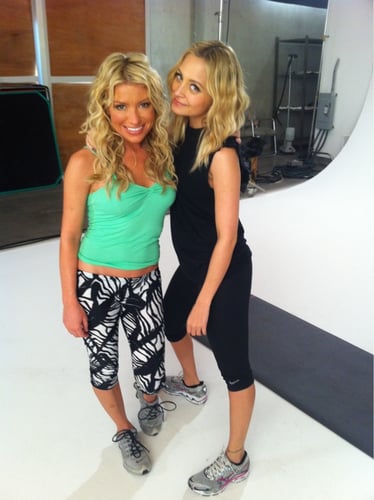 First, start early: Don't wait until the last minute to try and lose weight and then expect miracles, Tracy warns. "The thing that is most unfortunate is when a bride comes to me and has never done anything before and is like 'Oh my god, I have to lose 30 pounds in a month,'" Tracy says. She recommends you figure out your diet and exercise plan as soon as you start looking for venue locations, at the beginning of your wedding planning, so you don't end up resorting to juice cleanses or feeding-tube diets to lose pounds weeks before your big day. (Tracy jokes, "If I were the husband-to-be, I can think of nothing less sexy than my fiance installing a feeding tube to look 120 pounds thinner on the wedding day. I'd probably call it off!")
Read on for Tracy's diet and exercise recommendations for brides!
The diet: A sensible diet plan is one where you don't severely deprive yourself just because you feel like you need to look a certain way on your wedding day, Tracy says. "Why would you want to extreme diet just a few weeks leading up to your wedding just to faint the night of your wedding? Or all of sudden eat and then two weeks later gain it all back?" she says. Instead, eat cleaner and exchange a few of your meals with protein shakes or an energy bar (on her new OpenSky page, she also recommends Bliss Bar Superfood Energy Bars as meal replacements) as you are prepping for your wedding day. And if you're doing any last-minute prep, she recommends that you "have a lot of greens and cut out all fats," eat lean protein, and use rice wine vinegar or lemon juice on your salads for up to four days, but be sure to talk to your doctor about any extreme dietary changes before you start.
The exercise: All of your weight-loss tricks won't matter, Tracy says, if you don't exercise while you're prepping for your wedding. "If you want to look like you and a healthy version of you and the best version of you for your husband-to-be, then you need to start sweating and exercising and designing your body to look like a woman," Tracy says. While some may disagree, Tracy doesn't recommend certain workouts for brides. "I wouldn't tell brides to be to go get P90X or start learning from a trainer who looks manly. You just have to be smart about it," she advises.
Tell us what you think about Tracy's advice and share your own wedding fitness tips below!