Trainer Harley Pasternak's Diet Tips For Brides
Harley Pasternak's Diet Tips For Brides-to-Be
Harley Pasternak trains some of the hottest ladies in Hollywood, from Lady Gaga to Megan Fox. He's also helped a few starlets, including Hilary Duff and Katy Perry, get ready to walk down the aisle. Since Harley has a masters degree in nutrition, which complements his advanced degree in exercise physiology, he knows getting wedding ready is as much about diet as it is exercise. Here are some of his tips to help you get ready for your big day.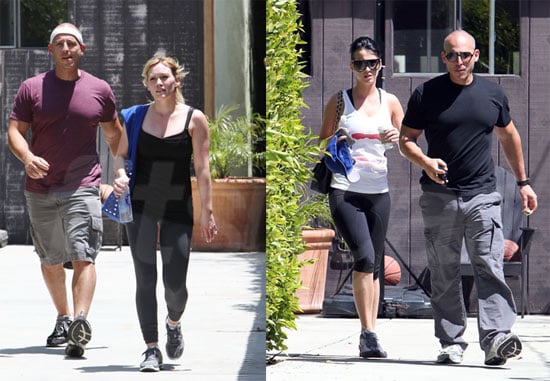 Don't waste calories on bevvies: Harley found that although many of his clients, brides-to-be included, would eat healthy meals, they chased the food down with a Jamba Juice or other high-caloric drinks. Instead of soda and coffee concoctions, those tasty but notorious calorie bombs, he recommends sparkling water, vitaminwater zero, FUZE Slenderize, or tea — unsweetened, of course. "These beverages are still delicious, still hydrating, and will keep you feeling full but are not too high in calories," explains Pasternak.
Snack wisely: Snacks are an important element of Harley's 5-Factor Diet. The eating plan consists of eating three meals and two snacks daily. The diet includes many snack options, but he suggests you "opt for something simple like nonfat Greek yogurt with berries or mix nonfat Greek yogurt with a little bit of peanut butter for dipping apple slices." Another option is a miniature open-faced sandwich with high-fiber crackers instead of bread. Wasa or Ryvita are two brands Harley recommends. Just remember to skip the mayo and use naturally low-calorie mustard as your condiment of choice.
Avoid the bloat: To keep your belly from pooching on your big day, Harley suggests "eating foods that are really easy to digest, like smoothies." Foods to avoid? "Beans and anything with a lot of roughage." It's also a good idea to minimize heavily acidic foods too.