Trainer Teddy Bass Shares Cameron Diaz's Exercise Plan
Get the Bod: Cameron Diaz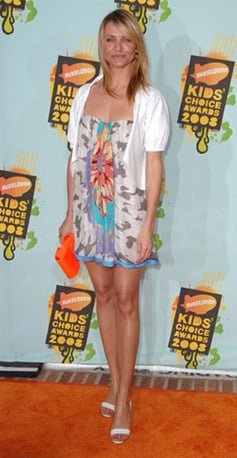 Cameron Diaz showed off some serious skin while on the set of Bad Teacher this week. The actress was seen wearing Daisy Dukes and a midriff-baring top that left many of us wondering how she always manages to look so lean and toned. Cameron's longtime trainer Teddy Bass shared with Us Magazine that Cameron uses a mixture of Pilates, cardio, and weight training to stay in shape.
"That seems to be the best combination for women over 30," he explains. "Women need weight — it's great for building the butt. And elongation and smallness is tapped by doing Pilates."
Bass says that he and Cameron hit the gym as "often as possible" and recommends that everyone should incorporate cardio into their routine three to five times a week. If he and Cameron are limited on time, they do 45 minutes of Pilates — using a mat and the Reformer — but if time isn't an issue, Bass adds weights and flexibility training to the routine.
To find out what exercises Cameron does, read more.
When it comes to those gams, Bass says he gives Cameron lots of compound exercises: step-up with a reverse lunge, a squat with a curtsy, or a side-reaching lunge with a side step are a few that Bass and Cameron do together. Besides these moves, glider side lunges, side lunges to curtsy, and narrow squats with overhead press are other ways to build your glutes, hamstings, and quads. While Bass recommends using 20-pound weights for these moves, consider starting off smaller if you're a newbie. What's great about these exercises is that you don't need a gym or a Pilates studio — just a set of weights and some space!