Training Program: How to Start Cycling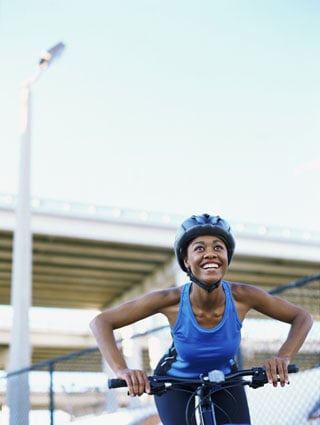 I like to think that biking is the new black, but I know I am in a minority. Here's why I shouldn't be: cycling is not only fun, it's great exercise and it will help you lose weight. Cruising on two wheels is much kinder to than knees than pounding the pavement in running shoes. If getting in shape is one of your goals for 2011, I say pedal your way to fitness.
Beginner Triathlete is a great fitness resource on the web, but even if you're not set on competing in a triathlon this year, the site can also help you get on your bike to get in shape. Take a look-see at this three-month cycling plan for beginners. The plan will raise your fitness level as it helps your lower your weight. The site recommends that you repeat the four-week plan for three months, and when you have a completed it you will be ready to train for a triathlon. Triathlon season starts in Summer and runs through early Autumn, so if you start today you will be ready to tackle tri training come Spring.
The first week of the workout totals just over three and half hours; with the fourth week schedule, you will be in the saddle for almost five hours. These workouts are not just meant for the road so you can get your cycling sweat on riding an indoor bike. For the interval workouts I suggest a flat bike path free of cars and other distractions. The only jargon you need to know to follow this plan is that "cadence" is cycling speak for revolutions per minute (RPM), or how many times one pedal makes a complete rotation in one minute.
Don't forget your helmet.