Tram Bar All Natural Energy Bar
Food Review: Tram Bar — Real Food, Real Energy
Made to be snacked on when riding a tram car to the top of the mountain, you don't need to be a skier to enjoy these all natural energy bars. A friend turned me onto a Tram Bar ($3 to 4), and it was love at first bite. Made with organic goodies including oats, honey, peanut butter, dried bananas, chocolate, dried apricots, raisins, sunflower seeds, and sesame seeds, no two bites of the bar are the same. It's super delicious, and even though it's only about three inches long, a Tram Bar is also super filling. One makes a great pre- or post-workout snack, but I've also eaten them when I crave a sweet treat after dinner.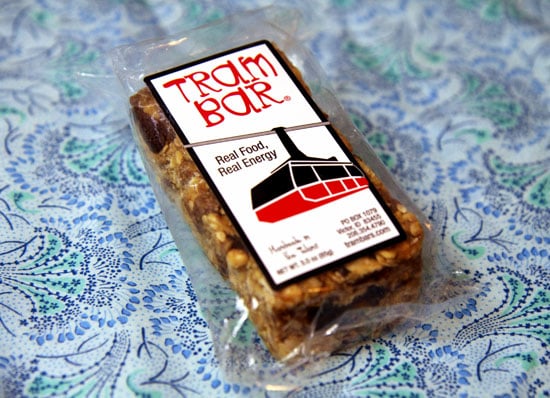 To see a closeup of this bar (you can really see the wholesome ingredients), and see the surprising nutritional info
.
These soft and chewy bars are probably the best tasting energy bar I've ever bitten into, but I almost dropped it on the floor when I saw the calorie amount — 340 calories for an energy bar? Definitely great if you're working yourself silly doing an all day hike, bike ride, or dance-a-thon, but not exactly a bar to be used for a basic snack. Actually, the nutritional info on the package says that it's one serving, but the info on the Tram Bar's website says one bar equals two servings. Half a bar is definitely enough for a pick-me-up snack, so when I eat a Tram Bar, I usually split one with a friend.
| | |
| --- | --- |
| Serving Size | Half a bar |
| Calories | 170 |
| Total Fat | 7 g |
| Saturated Fat | 2 g |
| Cholesterol | 0 mg |
| Sodium | 70 mg |
| Carbs | 24 g |
| Fiber | 2 g |
| Sugars | 13 g |
| Protein | 4 g |
| Iron | 6% |

Ingredients: Organic oats, Organic honey, Organic peanut butter (Organically grown dry roasted peanuts, salt), milk chocolate (sugar, milk, cocoa butter, chocolate liquor, soya lecithin, real vanilla), rice nuggets (rice flour, rice bran, raisin juice concentrate, honey salt), Organic dried bananas, Organic dried apricots, Organic raisins, Organic sunflower seeds, Organic sesame seeds, sea salt.
If you can't find these bars at your local health food store or gear shop, buy them online.