Trek 7.2 FX WSD 2012 Bike Review
Beginner Bicycle Buy: The 7.2 FX WSD by Trek
You never forget how to ride a bike, but hopping on one for the first time since those school days gone by can be intimidating. So when Trek sent me a bike that it promised was perfect for beginner cyclists, I was hoping it was the ideal gateway bike for me to start navigating San Francisco's hilly roads on two wheels.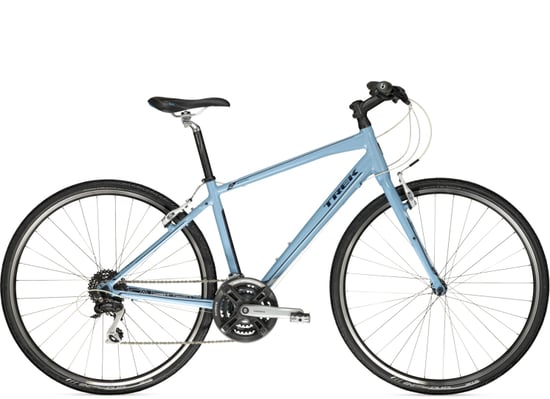 What's New
Released over the Summer, the 2012 Trek 7.2 FX WSD hybrid bike ($550) is an update of the company's most popular model. Since it's a part-road, part-mountain hybrid bike, it's made for anyone who commutes in the city, cycles for fitness, or is just the casual rider. Upgrades to the new model include a lighter body, shock-absorbing handlebars, and improved saddle comfort. Also, Trek's WSD line features women-specific design to ensure that the bikes' proportions and sizing are made for your body.
The Ride
As a city cyclist newbie, I loved how comfortable the 7.2 FX felt from the start. From the seat to the shock-absorbing handlebars, I felt confident and at ease. The low-rise handlebars make for back-friendly upright riding, and the bike's sturdiness reassured me that I was in control (everything helps when those cars are whizzing by). When I took the 7.2 FX with me during a camping trip, its hybrid tires — wider than a road bike's but not as big as a mountain bike's — navigated well-worn trails with ease, whether they were paved, rocky, or sandy.
Besides the comfortable ride, many of the 7.2 FX's other features make me a fan. My appreciation for the 7.2 FX's aluminum frame and eight speeds, for instance, grew exponentially as soon as I confronted my first hill. Its light body meant I wasn't weighed down, and once I got a hang of shifting gears I was able to actually make it to the top using the bike's low gears.
Read on for more details about the Trek 7.2 FX WSD.
The Looks
I was pleasantly surprised by the 7.2 FX's sleek looks. I was imagining something more sporty, but it was a lot less bulky than I was expecting. I also liked the dusky blue color (new for 2012) and black and white accents on the frame. It's a cute bike that still looks like it can take a beating.
What to Watch For
Cycling around in a big city means deterring bike thieves when it's time to park. A more bike-knowledgeable friend pointed out that the 7.2 FX's quick-release tires are tempting for bike thieves, so she had to show me how to lock my bike up so that both tires were secured and suggested switching out the quick release mechanism for secure locking skewers (read more about locking skewers and how to lock up your bike here). Also, shifting gears correctly on the 7.2 FX took some work — at first, the chains kept catching when I would shift and it would take a while for them to find the right track — but after reading Trek's recommendations in its owner's manual to use less force while pedaling when changing gears, the problem stopped. As for long rides, I didn't take the bike out for any super-lengthy trips, but after a couple hours on the bike riding on bumpy roads, the seat started to get a little uncomfortable.
The Details
The 2012 7.2 FX WSD is available in Dusky Blue or Gloss Berry and in 13, 15, 17, and 19 inch and Stagger 15, 17.5, and 20 inch sizes. Check the Trek site to find a dealer.