Triathlons For Women
3 Triathlons to Try With Your BFFs
If you're looking to challenge yourself both in and out of the water, grab the girls and sign up for a triathlon! Between the swim, bike, and run, triathlons are a great way to get into shape and test your athleticism. But, you don't need to be a seasoned athlete to sign up; we found three races fit for ladies of all levels. From the Mermaid Series to the Iron Girl, each triathlon offers something unique and often tunes and tapas too!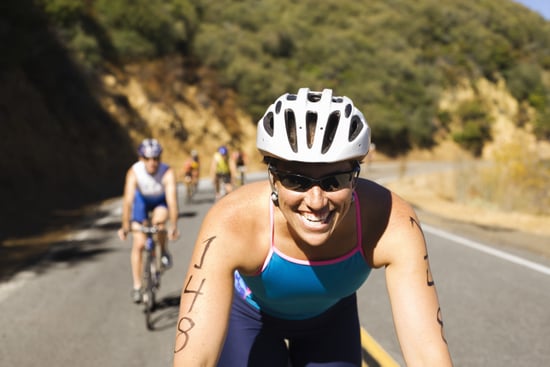 Triathlons
Esprit de She: Consider this race one of the nation's leading fit social events. Based around the idea of finding your mission, this race aims at helping women find their best self. But, aside from racing, there is tons of fun to be had at the post-race rendezvous (e.g., tunes and tapas).
Cost: Price varies depending on location and registration date, but expect it to be around $65-$140.
Prize: Medal, commemorative jersey (it's really cute!), and post-race party.
Training Groups? Because this race is designed to motivate you to achieve your goals there are several ways to train and stay motivated. From coaches, mentors, and training groups, you can find all the information here.
Locations: Tempe, San Diego, and Naperville.
Iron Girl: The international Iron Girl triathlon series is all about helping one find her inner grace; no matter her fitness or experience level. They recently merged with XXtra Mile to make the series bigger than ever. Don't worry, they feed you well at their famed breakfast café!
Cost: Price varies depending on location and registration date, but expect it to be around $95-$125.
Prize: Medal, performance shirts, personalized bibs, and a post-race breakfast.
Training Groups? From resources to training groups, there are several ways to prepare for race day, check them out here.
Locations: Santa Rosa, Clearwater, Cherry Creek, Lake Las Vegas, Columbia, Syracuse, Rocky Gap, Atlanta, Pleasant Prairie, Sandy Hook, Del Mar, Austin, Columbia, Bloomington, Fountain Hills, Lake Zurich, Seattle, and Clermont.
Mermaid Series: Although this series is solely on the West Coast (for now), it's worth taking a trip to experience it. Created to be a catalyst for change in both fitness and life, they make it their mission to include all women. Keeping the distances short, these races are great for beginners but still fun for seasoned veterans. They even have a series called "mini mermaid" that introduces young girls to the power of sport.
Cost: Price varies depending on package and registration date, but expect to pay around $85-$105.
Prize: Pendant, t-shirts, and post-race food.
Training Groups? Yes! You can choose to join TeamMermaid, attend a clinic, or find training advice here.
Locations: Capitola and Alameda
Swimming or biking not your thing? Consider signing up for a half marathon or mud run with the girls instead.