The Twitter Humiliation Diet and a Scale That Tweets Your Weight
The Twitter Humiliation Diet: Would You Tweet Your Weight?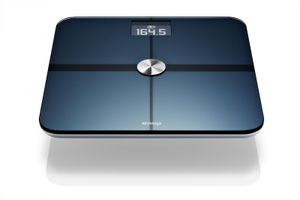 Friends commiserate over weight woes on the regular and can be a great source of support when you're trying to lose a few pounds. But would you share your weight loss story with the entire world? That's what writer Drew Magary did when he decided to use Twitter to chronicle his weight loss, publicly declaring his weight and food intake.
In December, he started what he calls the "Twitter Humiliation Diet," which required him to, among other things, post his weight on Twitter every single day. "I knew that I needed a social incentive to do it. Imagine if someone printed out their weight every day at work and posted it outside their cubicle for all their co-workers to see. This was the same thing," he explained.
The humiliation diet is working; his last weight-related tweet lists him at 210 pounds, down from 260. As nerve-wracking and potentially embarrassing as this sounds, a French company had a similar idea, and created a scale with built-in Twitter capacity that will automatically tweet your weight to all of your followers. I'm not positive I can get behind this broadcast-what-you-weigh trend, but it appears for some, it's the way to go. Would you dare?