Two-Gymnasts-Per-Country Rule Disqualifies Jordyn Wieber
Should the Two-Gymnasts-Per-Country Rule Be Changed?
Jordyn Wieber was a strong favorite to win gold in the all-around women's gymnastics event, but a controversial rule will keep the gymnast out of the finals altogether. And while her performance in the qualifying heat was not without mistake, many argue that Jordyn's biggest obstacle in advancing to the finals was being part of such a talented team.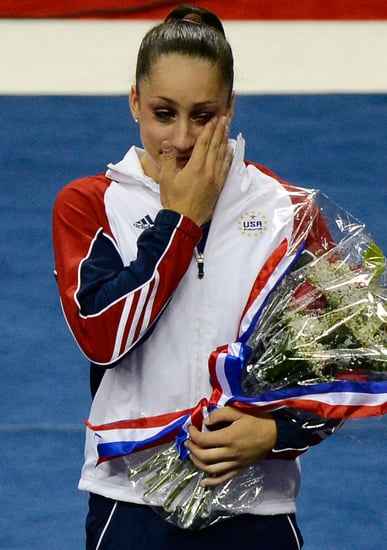 The international rule in question states that a country may have a max of two gymnasts compete amongst the 24 women in the all-around final. Put in place to promote diversity and prevent a single-country sweep of the event, the two-gymnasts-per-country rule also means that the gymnasts competing in Tuesday's all-around final are not truly the top 24 in rank. Case in point: Jordyn Wieber. Despite placing fourth amongst the 60 gymnasts who competed on Sunday, she's out because teammates Aly Raisman and Gabrielle Douglas both placed ahead of her (second and third respectively). In Jordyn's place? French gymnast Aurelie Malaussena, who finished almost six points behind her. Gymnasts from Russia, China, and Great Britain will also sit out of the final because of the two-gymnasts-per-country rule.
While limiting entrants in an Olympic event is not unheard of (table tennis, swimming, and beach volleyball are just a few sports that do), it's done during the qualifying trials before the Games are even under way. And unlike what we saw during the gymnastics heat yesterday, a good majority of Olympic sports allow for a single country to own the podium.