Two Ways to Improve Your Bike Without Spending Too Much Money
Two Ways to Pimp Your Road Bike
Biking is an expensive sport to fall in love with. A good bike costs a lot more than a great pair of running shoes — how's that for an understatement? However, a bike is a sum of parts, and you can easily swap out (or up) for better components and pimp your ride. I asked the folks at Shimano, maker of components, for a couple of ways a gal could improve her bike without going completely broke. Whether you plan to bike your first century this Summer or are racing in your first triathlon next month, here are two solid suggestions for improving the bike you already own.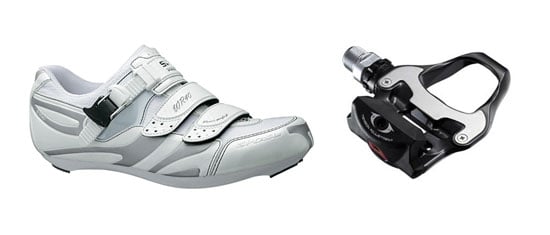 Pedals and shoes: If you're riding around in sneakers, you're decreasing the power of your pedal stroke. You can pedal much more efficiently and effectively with a "clipless" pedal system. The name is a bit of a misnomer, but wearing shoes with a cleat that attaches to (or clips into) a pedal allows you to pull the pedal up as well as push it down. Your entire leg is involved, not just your quads. Biking shoes are also much stiffer than running shoes, so you transfer the power of your pedaling directly to the cranks and drive train, sending your power the rear wheel, rather than your energy going into bending your flexible running shoe.
Shimano recommendation: Pedals 105 PD-5610 ($110) with shoe SH-WR40 ($110). The pedals feature the "same wide body platform for stability as the highest-end Dura-Ace pedals" at a more affordable price. The shoes were designed for the female foot with asymmetrical straps to alleviate pressure points on the top of the foot.
Learn the second way to increase your speed when you
.
Wheels: Upgrading your wheelset (cycling jargon for a pair of wheels) is a simple way to shave weight off your bike, ultimately making it easier to ride. Wheels designed to battle the acceleration issues of "rotational weight" will make your bike feel more responsive when you jump out of your saddle to accelerate.
Shimano recommendation: The wheelset WH-RS30 ($350) weighs in at 1516 grams with an aerodynamic rim and bladed spoke to "cheat the wind."
I am hoping to upgrade my pedals as I train for a century I am riding in August. What swap would you make to your bike?