Types of Running Shoes
Hit the Ground Running (in the Right Shoe)
Finding the perfect running shoe isn't always an easy task but finding the right pair is important to help prevent injury. But where to start? Because there are several styles and options to choose from, we've created a go-to glossary to help you find your sole mate. Once you've determined your arch and gait type (a running store or your running partner can help) turn to this guide that explains the different styles of shoes available. From a barefoot fit to extra stability, it comes down to what works best for you and your workout.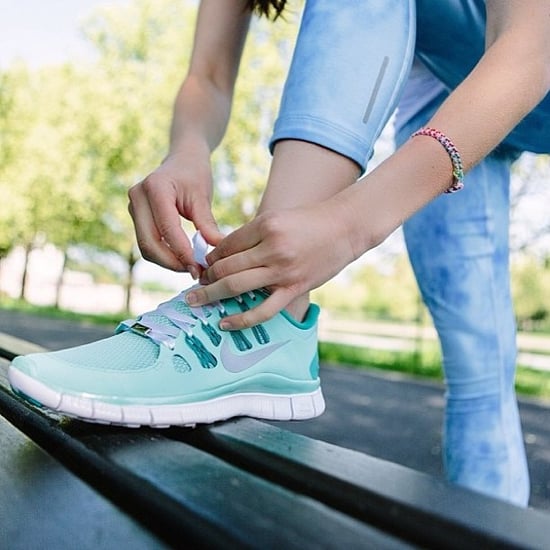 Barefoot: Barefoot running shoes have become increasingly popular over the last few years and are the closest you'll get to actually running barefoot. Most styles look like gloves for your feet, providing minimal protection and cushioning. Barefoot shoes, with a "zero drop" from heel to toe, encourage a more natural mid-foot strike. This style of sneakers is thought to engage all the muscles of the feet, encourage good posture, and help train you to land correctly. But, you shouldn't try these shoes blindly; it will take your body time to adjust to avoid injury. Prep yourself first with these tips, then consider our favorites.
Minimalist: Minimalist running shoes are the happy medium between barefoot shoes and traditional kicks; they are also a great way to ease into barefoot running. Always lightweight, they have little to no arch support but still offer some cushion and flexibility. If you are used to tons of cushion, adjusting to minimalist shoes can take time.
See which shoes offer more stability and cushioning after the break!
Neutral: The neutral running shoe is exactly how it sounds, fit for those who are midfoot and forefoot strikers. This shoe is often a safe bet and perfect for those who don't underpronate (your feet roll outward when you run) or overpronate (your feet roll inward when you run). Neutral shoes offer a bit more midsole cushioning and flexibility compared to stability running shoes and are often great for all types of cardio.
Stability: Stability shoes are for those with normal arches and designed to reduce various degrees of overpronation. In fact, they work for the broadest range of foot motions, so if you're unsure, choose a stability shoe. Compared to minimalist shoes, they are rather stiff but offer ample support. They are designed to keep your foot stable, preventing movement in the ankle while supporting your foot.
Motion Control: In one word, motion control shoes are stiff. They are stable control-oriented and limit pronation, offering ample support. Buy these shoes if you overpronate (your foot rolls inward and you need more ankle support), if you wear orthotics, or have flat feet.
High Performance: Designed for speed, high performance running shoes are perfect for fast runs or competitions. Compared to the average running shoe, they are lighter, have less cushioning, and are lower to the ground.
Remember this is a guide. Before you consider what type of shoe you need, determine your foot type, what type of terrain you'll be running in, and don't be afraid to ask a specialist. Whatever you do, don't buy a pair solely because they are cute.