US Hotels With In-Room Fitness Amenities
In-Room Fitness Amenities Offered at 5 Popular US Hotel Chains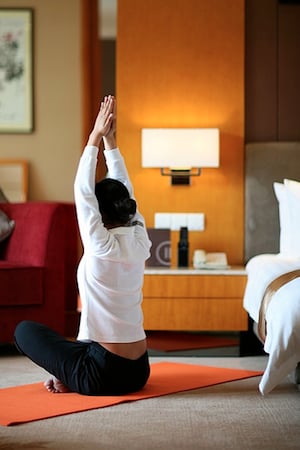 Hotel gyms are becoming so state-of-the-art nowadays that you really just need to show up in your shorts and running shoes and you will have access to all the amenities your workout routine could ever require. Hotel chains are even stepping it up a notch by offering in-room workout gear for guests, as an increasing amount of women are keen on exercising in the comfort of their own room — why compromise privacy and convenience?
Here's a rundown of the big hotel names that are bringing the workout to you, in the comfort and safety of your own hotel room.
Westin Hotels and Resorts: Various Westin locations across the country offer a program called RunWestin complete with a running concierge who leads guests on runs and even acts as a tour guide while pounding the pavement. This running group is available for all guests of varying running levels, and if you'd rather run solo, you can grab or download a provided trail map. Forget your shoes? No problem. Your Westin hotel just may be one of the properties that has teamed up with New Balance so you can borrow shoes, shorts, shirts, sports bras, and socks during your stay!

The Westin also offers the option of booking a guest room that comes with a treadmill, a stationary bike, dumbbells, fitness DVDs, resistance bands, and stability balls. So you never have to worry about leaving your room to work out!
Here are more hotels that offer in-room exercise gear.
Source: Flickr User theshanghaieye