US Women's Marathon Team
Meet the US Women's Olympic Marathon Team
The Olympic women's marathon is Sunday, offering viewers the chance to see the world's best long-distance runners compete against one another with iconic London landmarks in their background. When the pack whizzes by the Palace of Westminster, we'll have our eye on Team USA: Shalane Flanagan, Desiree Davila, and Kara Goucher. These three ladies are part of arguably the strongest women's marathon team the US has ever sent to the Games.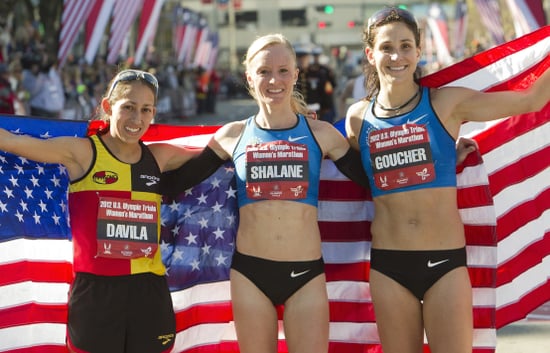 Desiree Davila
Faced with injury, Desiree considered pulling out of the race altogether — and in fact did. Last Sunday her coaching team released this statement: "It is with great sadness that we must inform everyone that Desiree Davila has not been able to successfully overcome her hip flexor injury. After much thought and deliberation we have made the very difficult decision to not run the Olympic marathon." Within hours of the statement, Desiree decided to push on with rehab in hopes to be ready by the Games. Desiree is no stranger to perseverance: her climb has been gradual, and in 2011 she set personal bests in four distances: 5K, 10K, half-marathon, and marathon (2:22.38).
Shalane Flanagan
After winning bronze in the 10K during the 2008 Olympic Games, Shalane set her sights on upping the mileage. In 2010 she made her marathon debut at the New York City Marathon, where she placed second — the best finish by an American women in over 20 years. Shalane finished first at the US Olympic trials, clocking in a personal best at 2:25:38.
Kara Goucher
This will be elite runner Kara Goucher 's first Olympics as a marathoner (in 2008 she ran both the 5,000- and 10,000-meter run). After giving birth to her son in September 2010, Kara started training for the 2012 Summer Olympic trials, where she qualified with a third-place finish of 2:26:06, slightly over her personal best of 2:24:52. While not the favorite of the American women to win, Kara has a knack for always making her way to the podium.