US Women's Olympic Soccer Captain Christie Rampone Interview
US Women's Soccer Captain Christie Rampone on Balancing Life and Olympics
We are pumped to share one of our favorite stories from Self here on FitSugar!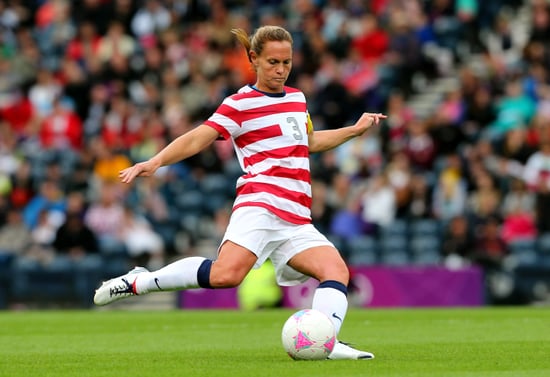 One athlete we're excited to see during the 2012 Summer Olympics is gold medalist Christie Rampone, captain of the US women's soccer team. We caught up with the 37-year-old mom of two to ask her about training for the Olympics, her favorite workouts (CrossFit and kettlebells!) and how she learns from her mistakes.
How have you been preparing for the London 2012 Olympics?
The US women's soccer team has been training since October 2011 for the London 2012 Olympics. We have traveled domestically and internationally quite a bit for matches. Typically we train twice a day, doing soccer and strength. Twice a week, we also do speed and agility.
Leadership is a huge part of your life — as a mom, a coach, and a captain. You have two daughters: 7-year-old Rylie and 2-year-old Reece. How do you avoid stress and keep a healthy balance between serious work and fun?
I attempt to address any issues immediately so they do not become overwhelming. I prioritize the more difficult tasks, staying on top of the important things that can affect the team or my children. Keeping a balance has always been easy for me, as I try not to give all my attention to one or the other. By having both, it allows me to appreciate and enjoy the other aspects of my life.
How do you balance your fight with Lyme disease (Rampone revealed that she has Lyme disease last year) with training for the Olympics and still manage to reserve energy for your kids?
I try to be realistic, listen to my body, and know when to slow down. By not overdoing it, I feel good enough most of the time, and it allows me to enjoy the kids.
There must be some long days packed into your schedule; how do you stay motivated day after day?
I never want to let my teammates or coaches down, so I always fight through the days when I am exhausted or experiencing discomfort with injuries and headaches. The competition motivates me, and playing against and with the best women's soccer players in the world.
Keep reading for more on how Christie stays healthy.
What do you do every day to keep your body healthy?
I drink a lot of water and always try to stay hydrated. Taking in the right kind of fuel before a busy day or before a workout, such as Greek yogurt, helps me get the most out of my day. Eat simple, healthy foods like chicken and pasta. Go to bed early and sleep well. And obviously, exercise by doing a combination of CrossFit, kettlebells, and running programs to stay fit and healthy.
Which on-the-go foods do you turn to in order to stay healthy when you travel?
While traveling, I love granola bars, trail mix nuts, dry cereal, and fruit for on-the-go snacks. I also try and start the day with a high-fiber and -protein meal, such as whole grain toast with peanut butter.
What's your unhealthiest habit?
Chocolate.
What's the biggest challenge you're facing now?
Travel, jet lag, time zones, sleep deprivation . . .
When are you happiest?
Game day and quality family days.
What do you do to wind down at the end of a long day?
I enjoy watching Parenthood.
What's the best piece of advice you've ever gotten?
Making a mistake is part of the game. It will happen, so how you handle those mistakes is what counts and is what will determine your success. Learn from them and move forward.
Related Links:
13 Olympic Women Who Will Totally Inspire You!
3 CrossFit Total-Body Workouts
Slim and Tone With Kettlebells
For daily health tips follow Self on Facebook and Twitter.