US Women's Track and Field Olympic Medal Wins
US Women's Track and Field Team Update: The Relay Team Wins Gold
The women of the US track and field team are racking up their share of Olympic medals: earlier this week, Team USA's Sanya Richards-Ross and Jennifer Suhr both became first-time individual gold-medal winners, Allyson Felix won her first gold in the 200-meter, the 4x100m relay team won gold and set a new world record, and today the 4x400m relay team won gold.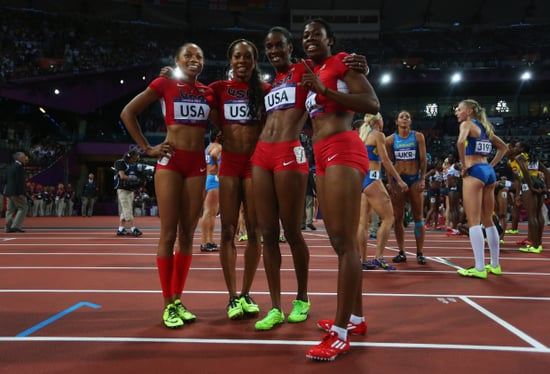 The women's 4x400m relay team of Sanya Richards-Ross, Allyson Felix, Deedee Trotter, and Francena McCorory sailed to victory today, winning 3.36 seconds over the Russian silver medalists with a time of 3:16.87. This is the fifth time Team USA has won Olympic gold in the event.
Unlike the 2008 Olympic Games when they didn't transition the baton smoothly, this year's women's 4x100m relay race went off without a hitch. Team members Allyson Felix, Tianna Madison, Bianca Knight, and anchor Carmelita Jeter won gold against Jamaican powerhouses Shelly-Ann Fraser-Pryce, Sherone Simpson, Veronica Campbell-Brown and Kerron Stewart, who took silver. The US team also set a new world record with a time of 40.82 seconds.
Read on for more US women's track and field medal results!
On Wednesday, US women's track and field team was once again on the track for the 200m final; sprinters Carmelita Jeter, Allyson Felix, and Sanya Richards-Ross all lined up for their chance at a gold. Allyson Felix won in 21.88 seconds, fulfilling her dream of getting a gold medal in her signature event. Allyson had previously won silver in the 200m at both the 2004 and the 2008 Olympics Games. Allyson wasn't the only American with a medal in the race; Carmelita Jeter won the bronze, coming in close behind silver medalist Shelly-Ann Fraser-Pryce from Jamaica. Sanya placed fifth.
After the 200m, American Lashinda Demus took to the track for the 400m hurdles final. Lashinda was ranked first coming into the race following last year's world championships; this was her first time racing in the Olympics after having twins in 2007 and narrowly missing out on qualifying for the 2008 Olympics. This year, she became an Olympics medalist, winning the silver after coming in seven-hundredths of a second behind Russia's Natalya Antyukh (at 52.77 seconds, her best time this season). Americans Georganne Moline and T'erea Brown also raced, coming in fifth and sixth.
On Tuesday, American Dawn Harper won a silver medal, finishing a close second in the women's 110m hurdles behind Australian Sally Pearson. The race was incredibly close — only two hundredths of a second separated Dawn from Sally's first place finish. Kellie Wells placed third; Lolo Jones was right behind Kellie, placing fourth. Unfortunately, Lolo was unable to realize her dream of winning an Olympic medal after falling from first to seventh place in the 2008 Olympic race, but it was nice to see Dawn and Kellie get the silver and bronze!
Next up: Jennifer Suhr, who took gold in pole vault on Monday. The 30-year-old beat out Russian favorite and two-time gold medalist Elena Isinbaeva to win, clearing 4.75m (about 15 and half feet) on her second try. Jennifer, who won silver in the 2008 Olympics, holds the American record in the pole vault. She placed fourth in the 2011 world outdoor championships, the same year she was diagnosed with celiac disease. After eliminating gluten from her diet, Jennifer has been able to manage her symptoms of cramping and fatigue and improve her performance.
On Sunday, Sanya Richards-Ross proved that strategy works when it comes to running the 400m. In the 2008 Olympics, Sanya led in the first half of the race, only to fade before crossing the finish line in third place. This time, however, Sanya used her four years of training since Beijing to conserve energy at the start of the race so she could speed past her fellow racers on the homestretch. On trying to stay calm during her race, Sanya said, "It's really difficult to control your emotions when you want something so badly. I had to dig really deep [to win]."