Under Armour Armour Bra Review
Under Armour's New Bra Fits, Flatters, and Supports
Some women search high and low for the perfect sports bra, but for me, I'll pretty much wear anything. I mean, having a structured, supportive bra doesn't matter that much if you're not exactly well-endowed, right? That's until I thought, until I tried Under Armour's new compression Armour Bra ($58).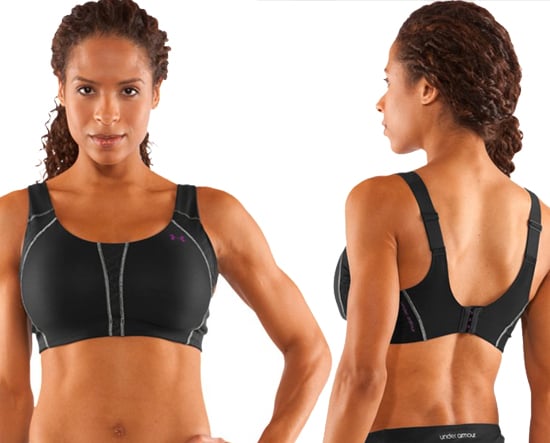 The company talked to athletes and experts alike to construct what they term the perfect sports bra, made for high-impact activities, and structured to fit like it was made specifically for the wearer. Instead of buying a general size (small, medium, or large), you choose the Armour Bra by your normal bra size. Each cup size has been thoughtfully constructed to give you shape, support, and compression without feeling too constricting, like sling support and different back designs depending on the needs for your cup size; the B-cup bra I reviewed has a racerback design with an keyhole opening for extra ventilation, while the D sizes, for example, feature a U-shape back (see above).
Read on to find out what I thought of the Armour Bra.
When I first tried on the bra, I thought I wouldn't like the padded cups or the heavy material, since they seemed like they'd make me hot and uncomfortable during my workout. But a few workouts later, I'm a convert; not only do the molded cups and structured paneled design make for a flattering look, but the bra never once felt heavy or sweaty (if you don't like padding, however, the cups are removable). In fact, my Armour Bra kept me as dry as possible no matter how long I spent sprinting on the treadmill or in strength training class, due in large part to it's wicking material and strategic mesh venting (located along the underarm and back areas).
The cut of the bra is high, so it works best under crewneck shirts rather than lower-cut tanks. And putting it on was a bit more awkward than slipping on a regular sports bra, since it involved dealing with a clasp at the bottom of a racerback. But when it comes to structure, style, support, and staying sweat-free, the Armour Bra is a must. The bra comes in black with five different color accents (based on cup size) and fits sizes 32A to 36DD.