Unhealthy Bathroom Habits
9 Things You Shouldn't Do in the Loo
There are plenty of healthy things you can do in the bathroom like stretch in the shower, lube up on sunscreen while naked to protect every inch of your skin, and floss to prevent gingivitis. There are also plenty of things you shouldn't do in the ladies room: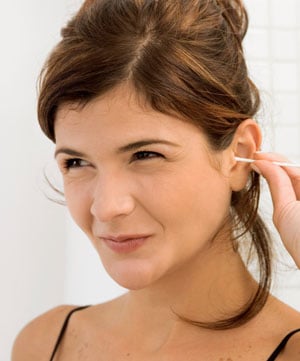 Keep on reading to find out what other unhealthy habits you should avoid in the bathroom.
Dry your hands with a hand towel at someone else's house: If several guests use the same hand towel after washing their hands, you're just passing their germs back onto your clean hands. Use paper towels or tissues instead so you know they're germ-free.
Use the same contact lens case for more than three months: Bacteria builds up on the plastic, which can transfer to your contact lenses and cause eye infections. Replace your case every three months (at least). In between replacements, disinfect the case after every use by rinsing it with your sterile contact lens solution. Then leave it open to air dry to prevent bacteria from growing.
Wipe from back to front: Helping to pass bacteria from your rectum to your urethra is a great way to sign yourself up for a UTI or other infection. Keep your lady business healthy by wiping from front to back.
Douche to cure a yeast infection: Cleaning your lady parts seems like it would wash away the yeast, but it actually does the opposite and helps the infection spread by pushing it up through your cervix and into your uterus, making it a million times worse. If you think you have a yeast infection, see your doctor to confirm, and he'll prescribe medicine to relieve your uncomfortable symptoms.