Unhealthy Grocery Store Habits
Don't Make These Mistakes at the Grocery Store
Cooking your own meals is healthy and economical, but making that trip to the supermarket without a plan can lead to high-calorie habits. Make sure you don't make these mistakes on your next grocery store run.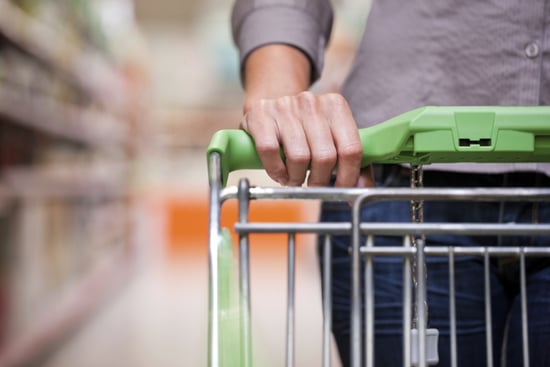 Starting in the middle: You should focus on shopping the perimeter of your grocery store, since you can fill your cart with fresh produce, whole grain staples, and protein-rich dairy without being distracted by frozen treats and processed foods. if you're looking to grab a treat or two, make your way to the middle after you've stocked up on your healthy items.
Going hungry: A recent study confirmed what everyone who's ever shopped hungry already knows — you grab more unhealthy and higher calorie foods (think junk food) when you're ravenous. If it's been awhile since you've eaten and it's time to go to the store, grab a healthy snack before you go like yogurt, a piece of fruit, or a protein bar to sate your hunger until your shopping trip is done.
Going without a list: Winging it can work for impromptu farmers market trips, but going for your weekly supermarket trip without a list can lead to an unbalanced nutrition plan throughout the week. Take time to plan your ingredient list so you know what to buy so you don't stray from your healthy recipes and move to prepackaged dinners.
Skipping all prepared foods: You may think that healthy supermarket buys are only found in produce bags, but some days you just don't want to spend the time on washing, dicing, and slicing your way to a healthy snack. Healthy prepared foods save you time, and if you're unlikely to eat something, like carrots or salad, unless it's washed and ready for you, opting for a few prepared foods can help you stay on track. Read more about the healthy prepared foods worth paying for here.