Upper Back Stretch You Can Do at Your Desk
Stretch It: Circling Eagle For Your Upper Back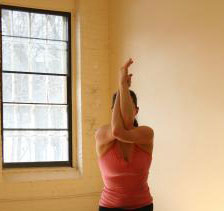 If you sit at a computer all day or find yourself behind the wheel for extended periods of time, no doubt you've experienced a tight upper back. Well I have a fix for you, and it's a variation on the Eagle pose in yoga. Instead of holding the pose, you circle your arms in the entangled position, which makes for a glorious stretch.
For the details, just
.
Extend both arms straight in front of you and cross your right arm underneath your left arm. Bend both elbows and bring your right fingers to your left palm. You now have your arms in Eagle pose.
Inhale and slowly raise your elbows up, then exhale and lower your elbows down, feeling different parts of your back stretching.
Inhale and raise your arms once again, and exhale as you draw your entangled forearms to the right of your face, then down toward your chest, then over to the left side of your face, drawing a circle. Repeat the circle two more times in this direction, then reverse your circle for three more repetitions.
Release your arms, and do the other side with your left arm underneath your right this time. Repeat the entire sequence, breathing and circling three times in each direction.