Urban Zip Line in San Francisco or on Your Next Vacation
Adventure Vacation: Zip Line Tour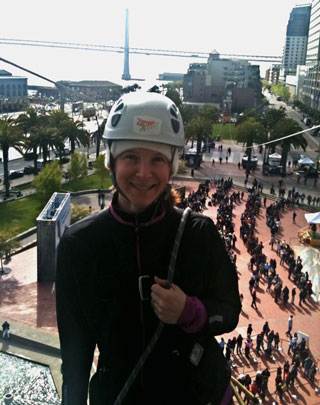 No need for a second cup of Joe as my work day began with an intense adrenalin rush: riding a zip line over Justin Herman Plaza in downtown SF. It's super fun and free, but you have to be willing to wait in line to get your wrist band and ride appointment between 10 a.m. and 5 p.m. The zip line, sponsored by the tourism board of British Columbia, is a 22-second thrilling ride. Our neighbors from up north wanted to give us a sample of the fun you can have in the BC province.
I know this mini-adventure is quite geographically specific, so if you can't make it to the longest urban zip line in the US by April 18, I highly recommend you plan a zip line tour into your Summer vacation, if possible. It is a fun, physical activity. While I think running is great way to sightsee while traveling, a zip line allows you to fly.
Here are just a few companies in locations ranging from Canada to Ohio to tropical Costa Rica where you can experience the fun.
Have you ever zip-lined? Share the deets in the comments section below.