Use Collective Buying Websites Like Groupon to Save on Fitness
Try Out the Latest in Fitness at Almost No Cost
In the past we've shared with you some great ways to recession-proof your workout, like renting exercise DVDs or buying used fitness equipment. Unfortunately these things don't always cut it when you're in a fitness rut or want to try something new. One way I and a lot of other folks work around this without spending too much is by joining collective-buying websites like Fresh Guide, Groupon, LivingSocial, SocialBuy, and BuyWithMe.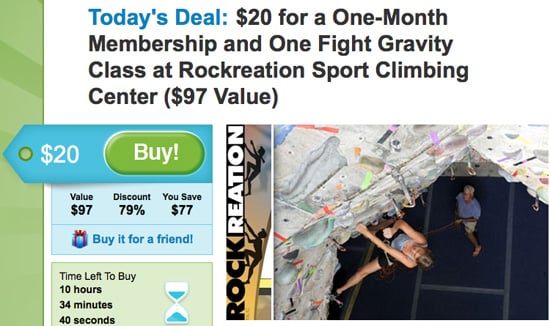 To learn how to save on things like kayaking, TRX suspension classes, and yoga, read more.
These websites work by helping strangers form a collective, and then leverage their group status for big discounts. Each website lists a deal of the day, and in order to obtain the discount a quota must be reached within a certain time frame, usually 24 hours. If the quota isn't reached (which rarely happens) your money is refunded to you. Example: yesterday's Pittsburgh Groupon was $30 for six group Pilates or yoga classes at V3 Studio, normally priced at $69. In order to get this 57-percent savings, 45 people needed to buy into it within a 24-hour period, which they did. This particular Groupon is good for six months — others expire sooner, some later. Also, each business offers a set amount of discounts they'll offer, making the deals available on a first-come, first-served basis.
While the deals cover a range of things that include spa services, restaurant meals, products, and more, fitness comes up all the time. I did a quick survey of all the sites yesterday and found deals for yoga, massage, martial arts, Zumba, acupuncture, rock climbing, and personal training sessions. While all of these services were discounted by at least 50 percent, some were discounted up to 80 percent! Each of the websites I mentioned advertise daily deals in multiple cities, with Groupon having the largest reach at 45 cities. My advice is to sign up for all of them since you get a daily email listing the special. What's great about these sites is that things come up all the time that you may have been curious about, but weren't sure if you could make the financial investment. I've had friends use it for Bar Method classes, hiking yoga, and boot camp circuit workouts.
Do you think you'll try it out?