Use Cute Workout Gear For Fitness Motivation
Why Stylish Workout Gear Might Help You Stay Fit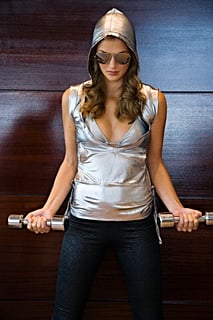 I used to have a pretty thoughtless and no-frills workout uniform: black sweats and an old t-shirt. My reasoning was that there was no point in dressing up when I was just going to get gross and sweaty. I have since learned that putting a little more thought into what I wear while working out actually motivates me to get fit.
Because of an awesome sale, I got myself a pretty good-looking pair of Nikes. Almost immediately I scheduled a hiking date with a friend just so I could break those babies in. I'm not sure why it never occurred to me before those Nikes that cute workout gear might excite me in the same way a new dress does. Now I make a point to look for colorful sneaks and cute graphic tees, as well as flattering yoga pants. I also have a collection of bright hoodies that I use as cover-ups after yoga class or to keep warm on an evening bike ride. Best of all, a lot of activewear lines are making great looking clothes that also have practical features like moisture wicking or sun protection.
I'm not suggesting to throw down a ton of money on clothes and gear or to show up at the gym with a face full of make-up. But wearing workout gear that expresses my style and personality helps make me feel more confident and cute, and as a result, I want to work out. How about you?