Use a Grill Pan to Bring Down the Calories
Smarter Eats: Get a Grill, Girl!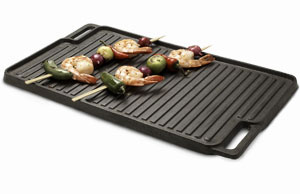 Where have all the calories gone? Hopefully to the bottom of the pan and not the seat of your pants. It's no secret that grilled foods are often healthier than fried and sautéed foods, but who has the time to always go outside and get the fire started? Not I. But I do still have time to grill . . . with my trusty old Reversible Griddle and Grill ($20).
The grill side allows me to quickly whip up tasty and heart healthy meals, while the marinade drips to the grooves of the pan rather than being soaked up into the meat or vegetables. Don't get me wrong — I love a wok tossed dinner or an occasional pan fried fish, but my body can't afford to literally soak it all up night after night. When I am ready to treat myself, I just flip it over to the griddle side and toss on a batch of pancakes and bacon. Pass the low-fat syrup please!