Use Resistance Bands to Strengthen and Tone
Resistance Is Fruitful
This Christmas I was excited about all the fitness-related gifts I received, especially a new resistance band kit. It's been raining a lot lately, and as a result I haven't been able to ride my bike to the gym as much as I'd like. It's a bummer, but using my resistance bands at home has kept me from going nuts. I use them to tone and strengthen as well as stretch. And even though it's not exactly the same as getting to my yoga class or climbing gym, it works the same areas of my body  — hips, thighs, arms, back, you name it, it works it!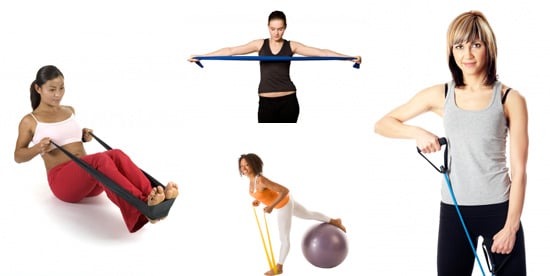 What's great about a resistance band is how inexpensive it is — you can easily find a good one for under $10 or a three-piece set for around $30. They're small and store easily, making them ideal for traveling or tucking away in a desk drawer at work. And depending on your level of strength, there's one for everyone — from light to super heavy tension and everything in between.
Read why I think you should learn to love resistance bands when you read more.
Besides using them in place of free weights for strengthening specific muscle groups (think bicep and hammer curls), I also make exercises more challenging by incorporating a band into them. Squats, push-ups, and lunges become even more challenging with the addition of a resistance band.
You'll find that when using resistance bands, it's easier to target smaller muscles and also mimic real-life sports scenarios. Because the bands offer tension in all directions, you can use them to mirror the movements you make in your sport and strengthen those muscle groups.
I know that many of you want to tone and strengthen your bodies as part of your goals in our Get Fit For 2010 challenge. If you don't already have a resistance band for yourself, go out and get one: I promise that you'll see results!