Use Tax Refund For Fitness and Health
Invest That Tax Refund Back Into Yourself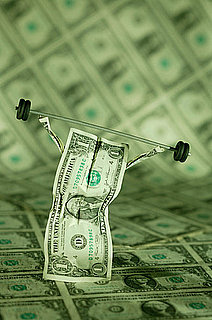 It's always exciting to receive a check from Uncle Sam come tax season. Like Savvy, I try to save some of my refund and pay off debt. I also invest the money too, and I'm not just talking stocks and bonds. If you've got a little extra money this year, use it toward your health. It's a worthwhile investment that definitely keeps on giving back to you. Here are a few healthy ways you can start spending that tax refund.
Enroll in a new fitness class. Maybe there's a new fitness trend you've been dying to try, or a healthy vacation you've been meaning to take. Why not put those tax dollars to use? Make your money stretch even further by using collective-buying sites.
Get a physical exam. Going to the doctor can be pricey, even with insurance. But at the risk of sounding like a nagging mom, let me say that you shouldn't ignore your health. Go in for an annual physical, eye exam, or make a dentist appointment.
To see more ways to invest in your health,
.
Treat yourself to healing arts or spa services. When it comes to my tax refund, I'm a fan of a little splurge. Getting a massage, visiting a hot springs, or having a facial is a great way to feel indulgent while also receiving health benefits.
Sign up for a gym membership or personal training sessions. If a lack of funds have kept you from joining a gym, use your tax refund. And many gyms allow you to pay for a six- to 12-month membership up front so you don't have to worry about monthly fees. If you already belong to a gym, invest in a series of personal training sessions. Trainers are a great way to develop workouts that are specific to you, and they also help kick you into gear when you're feeling lazy.
Invest in new gear or fix up old. A tax refund is a great way to purchase big-ticket fitness products like cardio equipment or a bike. If you're hesitant to spend big, get yourself some new running shoes or tune up old equipment you already have.