V-Day Dessert: Guiltless Warm Flourless Chocolate Cake
After a healthy but scrumptious dinner of spicy scallops, Mediterranean couscous, and arugula salad, you'll have just enough room left for a chocolaty dessert that puts the sweet into Valentine's Day without ruining your healthy streak. Sure, dark chocolate-dipped strawberries are light and delicious, but it's always fun to try something a little more special for a romantic evening. Why not give this flourless chocolate cake a go? As with any dessert featuring chocolate, make sure you get a good-quality bar and follow the recipe's orders to use one containing at least 70-percent dark chocolate. The texture of this cake is moist and slightly spongy, and the ramekins you bake them in give instant portion control. You can definitely taste the orange zest in the final product — I happen to love the flavor combination, but if you're not a fan of orange and chocolate simply leave the zest out. I halved my recipe to yield four desserts, so take note the full recipe is meant to serve eight.
To see the recipe,
.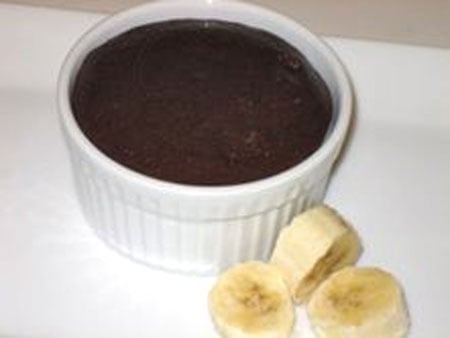 Guiltless Warm Flourless Chocolate Cake
Ingredients
Cooking spray
6 ounces 70 percent dark chocolate
1 tablespoon orange zest
1 teaspoon vanilla extract
2 very ripe bananas
1/4 cup roasted sweet potato
1/4 cup honey
1 whole egg
3 egg whites
Directions
Preheat oven to 350 degrees F.
Place 8 (4-ounce) ramekins or custard cups on a large baking sheet. Spray with cooking spray and set aside.
Combine chocolate, orange zest and vanilla extract in a medium bowl over hot boiling water. Whisk until chocolate is completely melted.
Puree bananas, sweet potato and honey until smooth.
Remove the melted chocolate from heat and fold over banana puree and 1 whole egg. Mix well.

Whip the egg whites until soft peak.
Slowly fold egg whites into chocolate mixture.
Spoon mix into ramekins, filling them almost to the top.
Bake for approximately 6 to 7 minutes, remove and serve. Warm center of the chocolate should be soft.
Serves 8.
Information
Category

Desserts, Cake
Be sure to check out the other dishes I am serving for my healthy Valentine's dinner — spicy scallops and Mediterranean couscous. For more options, PartySugar has created her own Valentine's menu that won't break the scale.