Vanessa Hudgens Trains With Navy Seals For Role In Sucker Punch
Vanessa Hudgens Joins the Military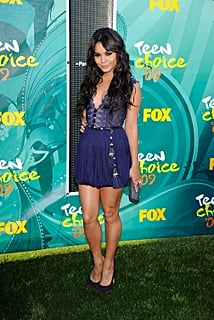 High School Musical star Vanessa Hudgens skipped the fancy trainers and went straight to the Navy Seals for a boot camp workout. The actress, 21, told People Magazine that training with the elite special forces was the "most intense thing that anyone could ever do." In preparation for her role in Sucker Punch — a 1950s era action flick — Vanessa trained with the Seals for five months.
"I was bawling my eyes out because they push you so hard," she said. "But it's amazing what you find from it. When you go so far you find a certain Zen within that and you know you can do anything. It's very empowering."
In the film we'll get to see an edgier side of Vanessa: "I walk around with the biggest guns you have ever seen." Though she may have been crying her eyes out by the end of the workouts, Vanessa says that training with the Seals has helped her prepare for the role, both mentally and physically. Tell me, has a workout ever pushed you to tears?