Vanessa Williams Shares Diet Tips in Prevention Magazine April 2010
Vanessa Williams Shares Her Favorite Workout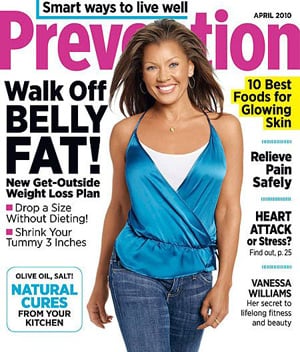 Vanessa Williams has got it goin' on: besides raising two children, the 47-year-old star is currently working on two projects — Ugly Betty and the Broadway show Sondheim and Sondheim, set to open in the Spring. Between all of this, she shares in the April issue of Prevention Magazine, she still manages to hop on the treadmill three times a week, lift weights, and throw in a crossword puzzle! Check out some of the interview highlights here:
Her cheat foods: "New York pizza. But what's really deadly is when I cook and bake: cakes, pies, lasagna, roast chicken, tacos . . . and my kids' requests: buttermilk waffles, blueberry pancakes, French toast."
Her number one diet tip: "Cutting down portions. If you're full, stop. Push the plate away — you don't have to finish it all."

To find out what Vanessa's favorite workouts are, read more.

Her favorite workout: "I was doing Pilates before people even knew how to spell Pilates. I started with [Pilates guru] Mari Winsor after my first child, 22 years ago. She used to come backstage and do a mat floor workout with me when I was doing Kiss of the Spider Woman on Broadway. Core strength balances your entire body. It pulls your shoulders back, tucks in your pelvis, makes you walk straighter, and gives you great posture."
Her favorite outdoor workout: "I walk outside. It makes you feel alive. I live in a wooded, hilly area, so it's great to be able to go outside on a gorgeous day and see the neighborhood. Bring a couple of dogs with you and it turns into an adventure."
Her favorite way to work out with friends: "Salsa! I started in '97 as training for a movie I did called Dance with Me. I go out and salsa with friends, especially in the summertime. Now, that's incredible cardio! Not only are you dancing nonstop, but the music keeps you going — you could be dancing for hours and dripping with sweat and not even feel like you're winded or working."