Variations of Crunches on an Exercise Ball
7 Ways to Get a Sleek Midsection
Doing crunches on the ball is one of the most effective ways to tone your core, but the basic move can get a little stale. Mix things up and work your abs harder with these challenging variations.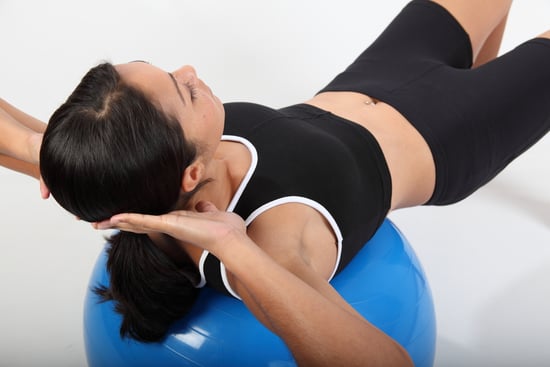 Bring your legs together. The closer your legs are, the harder it is to stay balanced on the ball, which means the better the ab workout.
Slow down the movement. Count 1-2-3 up, and 1-2-3 down.
Add a little weight to your torso by holding a light dumbbell in your hands in front of your chest. This will provide added resistance and further challenge your abs.
Roll the ball so it's just above your hips instead of under the upper or middle portion of your back — crunches are much harder in this position.
Lower your torso all the way back into Wheel Pose in between crunches to make you abs work even harder.
Add a twist to really target your obliques (love handles), touching your elbow to the opposite knee as you crunch up.
Work your upper body at the same time. Place the ball under your shins while in plank position, and do a Knee-Tuck Crunch.