Vegan No-Bake Nut Cookie Recipes
Forget the Oven! Nutty Vegan No-Bake Treats
With most of the country experiencing 80 and 90-degree temps, it would be a crime to turn on the oven. So what's a sweet tooth to do? Here are three nutty no-bake vegan desserts you can whip up in your kitchen without getting hot and bothered.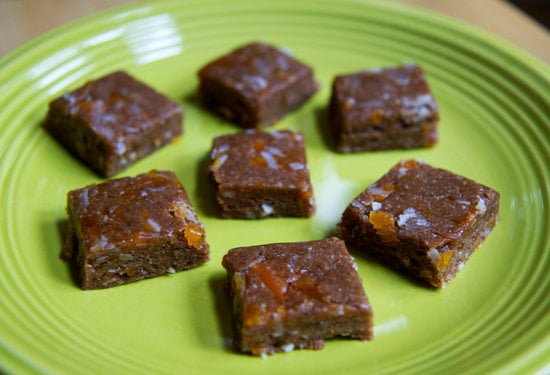 Almond Butter Apricot Bites
Made with raw almonds, raisins, dried apricots, unsweetened shredded coconut, and cinnamon, these squares are chewy, sweet, and only 59 calories per serving.
Keep reading for two more vegan no-bake treats you won't be able to resist.
Superfied (& Vegan) No Bake Cookies
These chocolate cookies include all-natural ingredients such as peanut butter, banana, raw cacao powder, almond milk, and oats. You'll need to cook these on the stove, but that's the only heating required.
No-Bake Peanut Butter Chocolate Crispies with PB "Fudge"
Crispy and fudgy, these no-bake peanut butter chocolate crispies taste just as decadent as they look. Grab some peanut butter, unsweetened almond milk, rice cereal, chopped peanuts, and vegan chocolate chips, and your mouth won't miss your oven one bit.